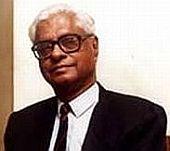 Security and strategic guru K Subrahmanyam died in New Delhi on Wednesday after a brief illness. He was 82.
Subrahmanyam, who is survived by his wife, three sons and a daughter, breathed his last at the All India Institute of Medical Sciences, family sources said.
He was suffering from cancer and diabetes but the end came after a heart attack, they said.
Subrahmanyam, a prominent international strategic affairs analyst, journalist and a former Indian civil servant, headed the Kargil Review Committee and was the founding director of the security think-tank, Institute for Defence Studies and Analyses.
He also headed the Prime Minister's Task Force on Global Strategic Developments.
Subrahmanyam, described as the doyen of India's strategic affairs community by Prime Minister Manmohan Singh, was the premier ideological champion of India's nuclear deterrent.
He was appointed convenor of India's first National Security Council Advisory Board by the Atal Bihari Vajpayee government in 1998.
This board drafted India's Nuclear Doctrine, which now governs all policy aspects relating to usage and deployment of the nuclear arsenal. Its most significant aspect was the declared No First Use policy and the consequent directive on second strike capability.
Interestingly, Subrahmanyam declined the honour of a Padma Bhushan in 1999, stating that bureaucrats and journalists should not accept government awards.
He chaired several government committees and commissions of inquiry, including one on the 1971 Indo-Pak war.
Subrahmanyam was appointed chairman of the Kargil Review Committee in 1999, an inquiry commission set up by the Indian government to analyse perceived Indian intelligence failures during the Kargil conflict. Its recommendations led to a large-scale restructuring of Indian Intelligence.
During the 1971 crisis in East Pakistan, he was vociferous in supporting India's intervention and his views came in for strong criticism from the Pakistan government as well as the then US Secretary of State, Henry Kissinger.
Born in January 1929 in Tiruchirapalli in Tamil Nadu, Subrahmanyam studied in Presidency College in Chennai and topped the Indian Administrative Service in 1950-51. He was appointed a Rockefeller Fellow in Strategic Studies at the London School of Economics in 1966.
On his return, he was appointed director of the newly created Institute for Defence Studies and Analyses in New Delhi, a position he held until 1975.
He then went on to occupy a number of senior government positions, including chairman of India's Joint Intelligence Committee, home secretary of Tamil Nadu and Union secretary for defence production, before returning as IDSA director in 1980.
He returned to England as a Visiting Professor and Nehru Fellow at St John's College, Cambridge in 1987 and also served on a number of United Nations and other multilateral study groups on disarmament and strategic affairs. He authored or co-authored 14 books.
Read some of his rediff.com articles here:
India's N-programme: The perils ahead
The lessons from Putin's visit
Why the United States needs India
Also Read: The legend that is K Subrahmanyam