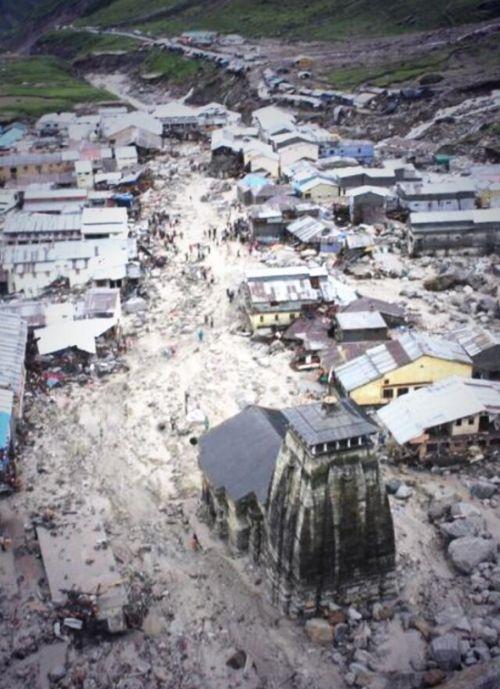 For 36-year-old Tehri-resident Vijender Singh Negi, hanging from the Kedarnath temple bell while standing over floating corpses in neck-deep water for nine straight hours proved a life saviour.
While the house of god sheltered him from the nature's fury, the agonising nine hours spent between the divine and the dead still haunts him, according to his relative.
Negi's brother-in-law Ganga Singh Bhandari, a Delhi-based travel operator, said seeing him return alive was nothing short of a miracle and tells how the "dead saved Negi's life".
"He stood hanging from the temple bell from 7 am to 4 pm, the day after the disaster struck. He stood on corpses to balance himself. His clothes had been torn to pieces by the water's fury but he somehow withstood the force hoping to come out alive," Bhandari told PTI.
Bhandari's hotel located right beside the KedarnathTemple got washed away in the torrent in front of Negi's eyes, even as he jumped out of the building.
"My brother-in-law (Negi) jumped off from the roof of our three-storeyed hotel into the water, before finding shelter in the temple. He saw hundreds of corpses floating inside," Bhandari said.
"He has big ulcers on his hands. Not only the nine hours proved excruciating, he battled to stable himself hanging from the temple bell as the water's force tore his clothes apart rendering him in a state of nature," he said.
"As he held on to the bell for hours, his grip began to lose. Dead bodies were floating besides him. So, to gain balance he stepped on to floating bodies to withstand the testing hours," he added.
"As his clothes were torn to pieces, he took clothes from the bodies around him to shield his almost naked body. The thought of it still sends shivers down his spine. "After the level went down he climbed out of the waters and lay in the jungle for two days before the army helicopters rescued him," he said.
"His family in Tehri could not stop crying when they saw him alive. He has little children. It was god's grace that he returned from the jaws of death," he said "Two of my staff at the hotel in Kedarnath, the manager and the cook, ran to higher places for safety before they saw the hotel being swept away," Bhandari said.
He says he had sent 12 buses altogether and so far he has heard of three casualties only among them as most are back safely and tells that "drivers have returned crying", as they recount the horror they had witnessed. Some of the buses are still stuck there in Kedarnath and Uttarkashi, he said.
"Drives and passenger who escaped nature's fury are all mortally scared. Drivers recount the horror with tears streaming out of their eyes," he said. He also spoke of a non-resident Indian family from the United Kingdom who ended up getting stranded for three days inside their vehicle before being rescued by the army.
"A NRI family of four from UK had hired a SUV for their Chardham trip but they got stranded at Maneri as their vehicle got stuck. They spent three days inside the vehicle without food before being rescued by the army on June 20. From the army camp they came to Delhi on June 21 before flying back to UK the same day," Bhandari said.
Another Ahmedabad-based tour operator which had sent 22 passengers for Kedarnath trip has 17 of them still missing.
"Out of 22 passengers, 5 have gone back to Ahmedabad but 17 are still missing. Our guide who was with them is still looking for them," Praveen Bhatt, the operator's Delhi office manager said over phone.
"The bus which had carried the passengers was parked at Sonprayag stand when they had gone to see Kedarnath. It was swept away by the flood that fateful night, luckily no one was inside," driver Dalbeer Singh said.