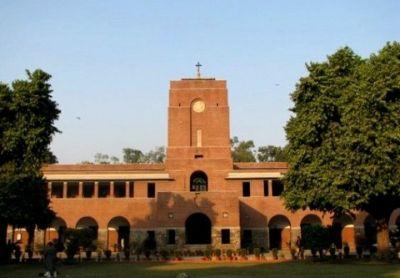 Delhi Commission for Women chief Barkha Shukla Singh on Saturday dubbed the alleged sexual harassment case filed against a professor of St Stephen's College as "shameful" and called for a probe into the matter.
"It is such a prestigious college and it is shameful if anything like this has happened. The matter should be investigated and the guilty should face action," Singh said.
"The cut-offs are so high for the college... the alumni are working on important positions across the country. The matter concerns the college's reputation and should be investigated," she added.
An FIR was on Friday registered against Satish Kumar, an assistant professor in St Stephen's chemistry department, after a PhD student filed a complaint alleging sexual harassment by him.
The student, who is doing her PhD under Kumar, has also alleged that college principal Valson Thampu tried to protect him when the matter was reported to the college authorities.
The victim alleged that Thampu had "criminally intimidated her to give a written application to him expressing her consent to close the matter in college itself in order to not cause any delay or problems in completion of her PhD". Thampu has not been named in the FIR.
Though Thampu confirmed the fact that the victim had raised the matter with him, he denied allegations of trying to protect Kumar.
He said the student had "willingly insisted in writing" that the issue not be treated as one of sexual harassment to solely ensure that her PhD is completed on time.
The college also issued a statement saying, "Such a complaint was duly and promptly forwarded by the principal to the Internal Complaints Committee and an inquiry, following proper procedure, is underway and nearing completion."
"It is reiterated that St Stephen's is uncompromisingly committed to the safety and dignity of women on the campus and that no effort will be spared to ensure that justice is done."
Delhi University Teachers Association also condemned the incident and demanded that the accused be suspended till the inquiry is completed.
"He is also the Bursar of the college, which is an important position in the college administration. He was not asked to step down while investigation was on and it further led to harassment of the victim," DUTA President Nandita Narain, who is also a professor at St Stephen's, said.