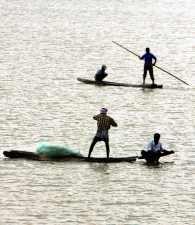 Fifty-four Indian fishermen have been arrested by Sri Lankan navy for allegedly poaching in the country's waters, days before the visit of a Lankan delegation to India to discuss the contentious fishermen issue.
Sri Lankan Naval spokesman Commander Indika Silva said that 21 fishermen were arrested and five boats were seized at Kankesanturai while 33 others on five boats were arrested at Talaimannar on Saturday night.
They were being brought to respective fisheries inspection offices for further action, Silva said.
Lanka had released 86 Indian fishermen recently as a goodwill gesture towards the visit of Prime Minister Narendra Modi, the first Indian leader to visit Sri Lanka since 1987.
Saturday's arrests came ahead of a Lankan delegation's visit to India this week to discuss the contentious fishermen's issue, including violation of the maritime boundary and invading each other's waters.
The talks between the fishermen's associations of Sri Lanka and India are to be held in Chennai on March 24 and 25.
This will be the third time the fishermen's associations of the two countries are meeting to find a solution to the issue of fishing in the Palk Strait and PalkBay.
Representatives of the fishermen's associations in Sri Lanka and India met previously on two occasions -- first on January 27, 2014 in Chennai and later on May 12, 2014 in Colombo -- to find out a solution to share the resources in the seas between the two countries.
Lankan fishermen say the Indian fishermen trespassing into the Lankan waters and using destructive fishing practices is not acceptable.
However, Indian fishermen and the Tamil Nadu government are of the view that the waters around KatchatheevuIsland and in PalkBay are their "traditional fishing grounds" that the Sri Lankan fishermen should share.
During his visit to Sri Lanka, Modi and Lankan President Maithripala Sirisena discussed the fishermen issue and agreed that the complex issue involves livelihood and humanitarian concerns on both sides and should be handled from that perspective.
Recently, Lankan Prime Minister Ranil Wickremesinghe had said that Lanka has the right to shoot intruders, an assertion which raised political hackles in India.