But richest Hindu temple in the world will not permit jeans, tights and such dress.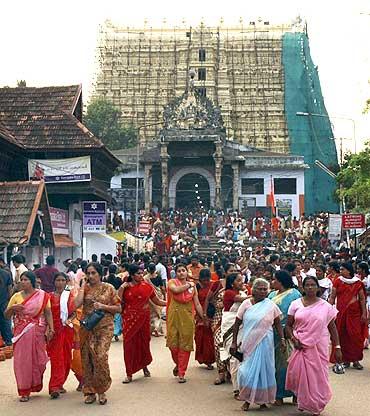 The Sree Padmanabhaswamy temple in Kerala on Tuesday, November 29, decided to relax its dress code for women, permitting devotees to wear salwar kameez and churidar while worshipping at the shrine.
The temple's senior tantri (priest) has voiced opposition to the decision.
Earlier, women devotees had to wear a mundu (dhoti) over their waist if they were attired in a salwar kameez and churidar before entering the shrine, considered the richest Hindu temple in the world.
"A decision was taken today to allow women to wear salwar kameez and churidar. From this evening itself, devotees can offer worship wearing salwar kameez and churidar," temple executive officer K N Sateesh said.
The Kerala high court had recently disposed off a petition seeking permission to allow women to wear salwar kameez and churidar inside the temple after directing the executive officer to decide within 30 days on the matter.
Sateesh said he had received mails and mass petitions from devotees, especially women, seeking a direction to temple authorities to permit wearing salwar kameez and churidar inside the shrine.
Devotees from all over the country visit the shrine throughout the year and had been wanting a change in the dress code.
"Keralites have also wanted this saying it was more convenient... there is no justification for wearing a mundu on top of the salwars or churidars. It is a mockery," he said.
Sateesh said he had received several letters from IAS officers, scientists, doctors and from ordinary persons seeking permission to be allowed to wear churidars as it was a 'decent and dignified dress'.
Salwar kameez and churidar were being allowed as it was traditional Indian attire, he said, adding that jeans, tights and such other dresses will not be permitted.
Meanwhile, the temple's senior tantri Nedumpilli Tharanalloor Parameshwaran Namboodiripad has voiced opposition to allowing women to wear salwar kameez and churidar, saying it was against the temple's custom and age old traditions.
The present dress code should continue, he informed the administrative committee and executive officer, temple sources said.
The administrative committee has also said that the present dress code should be continued.
'Such a decision has been taken after obtaining the written opinion of the tantri and also after gathering the opinion of other stake holders like the trustee, Ettara Yogam functionaries and a cross section of devotees,' the committee said.
'It is of the firm view that these kinds of issues which are superfluous are being raked up, only to sideline other important matters affecting the temple and its administration,' the committee said, adding, 'the age old tradition in vogue cannot be changed without wider consultation.'
According to temple custom, women should wear sarees, mundu and neriyathu, not cover their face while offering worship, while men have to wear mundu and be bare-chested.
The Guruvayoor Sri Krishna temple had in 2007 amended its strict dress code for women devotees to allow them to enter the temple wearing salwar kameez and churidars. Earlier, only those in sarees and traditional full skirts were allowed inside.
Photograph: PTI Photo