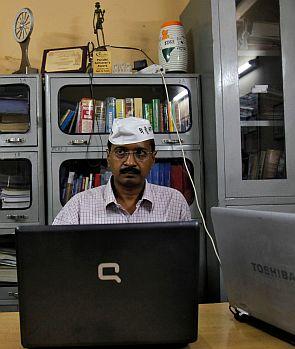 The December elections in Delhi will be the first real test for the Aam Aadmi Party. Manavi Kapur spends a day shadowing its leader on his campaign

The man who wants to run Delhi actually lives outside the city, in Ghaziabad. The security guard at Girnar Apartments waves you in the direction of the fourth-floor flat, clearly fed up of directing visitors to the house of ex-bureaucrat, anti-corruption activist, Aam Aadmi Party leader and wannabe Delhi chief minister Arvind Kejriwal. It's 9:00 am, and Kejriwal is recording a television interview. "Do you like Chinese food or dal-chawal?" Campaign-time television can be demanding. Kejriwal explains calmly that he is diabetic and eats a small meal every two or three hours.
Seated on a sofa, Kejriwal is dressed in frayed grey trousers and a blue linen shirt. He walks around barefoot at home. On the dining table, a breakfast of poori-subzi is being laid out. Next to the table is a shelf with books on BR Ambedkar and Mahatma Gandhi, and tomes on income-tax. There are some moorhas for visitors and a divan. A water dispenser stands in a corner. There is no carpet on the floor. Sunita, Kejriwal's wife and an officer of the Indian Revenue Service, looks accustomed to crowds at home, but doesn't come on television because "the code of conduct for civil servants prohibits it". As she hands over the Aam Aadmi Party cap to Kejriwal, Bibhav Kumar, a party worker, walks in. He addresses her as Bhabiji.
At about 9:45 am, Kejriwal and Kumar climb down the stairs, get into a blue Maruti Suzuki WagonR and start for the Kaushambi Metro station. He swiftly climbs up the flight of stairs, swipes his Metro card, breezes through security check, hops onto the elevator, and scrambles into the last compartment. And right at that moment his campaign begins.
Most people recognise him instantly, some with broad smiles and others with wide eyes. A man asks him, "Original hain kya?" (Are you the original Kejriwal?). Kejriwal starts handing out 'visiting cards' to everyone, asking them with enthusiasm to vote for his party in the election. Kumar whispers that distributing pamphlets inside the Metro is not allowed, but there's no rule against visiting cards. Each card opens like a flap, with nine promises written at the back, and almost becomes a pamphlet. When someone asks for his mobile number, Kejriwal says it's on the card, along with his email address, Facebook page and Twitter handle.
Many passengers want to get pictures clicked with him. He readily obliges, with an arm around their shoulders and a smile on his lips, and quips with a grin, "Ek photo ke sau vote." (I need a hundred votes for each photo). Some are staunch supporters of his party and begin to raise slogans. Others are skeptical and take the pamphlet-card with hesitance. Kejriwal moves from coach to coach, swiftly profiling his audience and switching with complete ease from English to Hindi. He tells a college student, "Hi, vote for the Aam Aadmi Party this election. And please tell your friends too"; to an aged man in dhoti-kurta, Kejriwal says: "Namaste, iss election Aam Aadmi Party ko vote dena aur ghar mein aur mohalle mein sabko batana." (Vote for Aam Aadmi Party this election, and tell everyone about us at home and in your colony). This might be Kejriwal's first brush with elections, but he knows how to change body language and speech for different audiences.
Kejriwal disembarks at the Pragati Maidan station and waves till the doors close. While exiting the station, he enquires from a security guard about his wellbeing, hands him his card and asks for his vote. Right below the station, a gaggle of auto-rickshaw drivers greet him warmly. He gets into one for a ride to the Delhi zoo, a kilometer or so away, where his blue WagonR is waiting for him. Clearly then, the Metro ride was a contact programme, not an austere middle-class breadwinner trying to save money or a busy politician trying to compress travel time. The auto-rickshaw driver refuses to take any money, but Kejriwal is insistent: "You mustn't argue with your older brother."
Inside the WagonR, Kejriwal agrees that auto-rickshaw drivers are unruly and often misbehave with passengers, but blames it on their troubled lives in slum clusters. The Aam Aadmi Party, he adds, appeals to them because of its sincerity and honesty. He cites an incident where Yogendra Yadav, a party leader, playing the devil's advocate with a driver, rubbished the party, but the driver said in response: "Even if Kejriwal doesn't do a thing, I can say with pride that my chief minister is honest." Honesty is Kejriwal's USP; he plays on it every now and then. And Delhi's auto-rickshaw drivers, who could number up to a lakh by December, are his salesmen.
Kejriwal's first halt is Bapa Nagar, a residential colony for government officers. Double-storied houses are stacked in neat rows. This falls in the New Delhi constituency, from where Kejriwal has declared he will contest the elections, starting December 4, against Shiela Dikshit, the Congress chief minister. At 10:35 am, a small gathering of people welcomes him. A projector plays a film on the Aam Admi Party's agenda. (About 200 projector screens have been installed across the city and Kejriwal claims that whoever watches these videos will be "converted" to his cause.) Kejriwal perhaps knows that a new set of promises won't work; so, his people are busy collecting complaints of the residents which will be included in the party's manifesto - a clever move to allow the people to reflect on the problems left unaddressed by Dikshit.
He speaks about how he's not here to make false promises like Ajay Maken (Delhi Congress heavyweight), give long speeches or offer them money for votes. The only assurance he makes is women's safety - he promises to accord it the highest priority, if elected to power. Kejriwal then invites the audiences to share their complaints and demands. The crowd here largely consists of servants of government officers; they want better supply of water and power, the rights to servant quarters and, above all, respect. Once their complaints have been recorded, they begin to cheer for Kejriwal. The officers in the flats too would have come, a volunteer tells him, but they're scared of being transferred out of Delhi for this "transgression".
At 11:30 am, he addresses a somewhat larger gathering at Nauroji Nagar, another government colony, with a slightly-modified speech to suit the crowd: middle-class men and women, including some government functionaries. Kejriwal speaks of how Dikshit never visits the colony, which falls in her constituency, and sends her sister instead. It begins to pour heavily and the crowd suggests that everybody should move to the community centre. Kejriwal walks with ease, without rushing for shelter or avoiding the people who want to speak to him - running for cover would send out the wrong signal. Once inside, Kejriwal sits on the wet floor and the people begin to list their problems: safety for women, water and education. In response to a demand for an underpass, he says that he will make no false promises and that this comes under the ambit of the Central Public Works Department.
He quickly winds up this meeting and gets into his car. As he's about to leave, a middle-aged man asks if he'll return after the elections; Kejriwal responds with a confident "yes". But he knows this doubt nags at all voters and he needs to address it. As the car starts for Pillanji, one of the 250-plus villages inside Delhi, Kejriwal digs into a paneer roll from his lunch-box and picks up a bottle of water from a roadside kiosk. People in nearby cars recognise him; he waves back and asks them to support his party.
At the village, Kejriwal walks through the congested lanes, eventually halting under a tree to discuss people's issues. Women here aren't very enthusiastic and want to know if he really will deliver on his promises. One of them says if all the civic work has to be done by the Central Public Works Department, what'll they gain by voting him to power? The 'Kejriwal wave' has missed Pillanji. He needs to take another approach. So Kejriwal launches into his own story of how, as an income-tax commissioner, he could have amassed immense wealth, but how he chose to work for people like them, and that is why they must trust him. India might be one of the most corrupt countries in the world, but talk of honesty sells quite well. Kejriwal knows that.
As the meeting draws to a close, some volunteers don the party cap with slogans in Oriya. One of them discloses that he works for a consultancy firm and has taken a week off to help with the campaign. While he paid for his travel expenses, Kejriwal has provided him accommodation in Malaviya Nagar. All party workers and volunteers address Kejriwal as Arvind or Arvind Bhai, and speak about his work with a sparkle in their eyes. After every meeting or rally, they stay back to record feedback.
Kejriwal then leaves for Constitution Club in central Delhi for a conference of student leaders of Delhi colleges. He stops en route for a Diet Coke, and discusses Narendra Modi's much-hyped rally in the city earlier in the day. "Modi is irrelevant as far as the Delhi elections are concerned. The Bharatiya Janata Party is in tatters and Modi is only a crutch." He speaks about his children warmly; when asked if they feel uncomfortable under the limelight, he says: "My children feel proud of me. Since their father is honest, they have nothing to be ashamed about." The conference at Constitution Club is spearheaded by Kumar Vishwas, an Aam Aadmi Party leader, and Kejriwal takes the backseat. Just before leaving, he tells the audience: "If there's a hung assembly, we will not support another party and will go for re-elections. And we're confident that we will win."
Around 3:00 pm, he leaves for three rallies in Malaviya Nagar. Here he travels in an open Maruti Suzuki Gypsy with the candidate for the constituency, Somnath Bharti, while a Toyota Innova plays music: a mix of patriotic Bollywood songs and some folksy music on Dikshit's failure and the imminent success of the broom (the Aam Aadmi Party's election symbol). Each rally is similar, though the size of the crowd varies, with the speeches full of allegations of wrongdoing against other parties and promises for a corruption-free city. While Bharti leads the show, Kejriwal takes the stage as a guest/celebrity speaker.
It is at these rallies that the source of Aam Aadmi Party's income becomes evident. There are desks, manned by volunteers, with an affidavit signed by each candidate (that he won't take police protection if elected) inside a pamphlet of the party, a survey questionnaire and receipt books for donations. A donation happens every ten minutes or so. For others, volunteers circulate a white sheet of cloth every half an hour - much like fakir quartets in small towns out to collect alms - and people throw coins and notes of up to Rs 100 in it.
Kejriwal ends the campaign around 9:30 pm. He settles into his WagonR to check his BlackBerry for email and messages, and discuss with Kumar the schedule for Monday. Tomorrow will be another day.