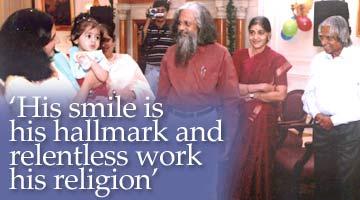 Y S Rajan, principal adviser to the Confederation of Indian Industry, has been a close friend of President A P J Abdul Kalam for over 40 years.
My first meeting with President Kalam dates back to 1965. I was in my early twenties and was working as a scientist at the Physical Research Laboratory in Ahmedabad. Dr Kalam was then around 34 years old. He was working at the Thumba Rocket Launch Station in Thiruvananthapuram and his job was to coordinate with scientists working on various payloads to be placed in rockets.
I was working under Dr Vikram Sarabhai, then chairman of the Atomic Energy Commission. In our first meeting itself we struck a good rapport as colleagues. What impressed me most was his famous smile and his keen interest in helping his fellow workers. There was an urge to do something more than his call of duty.
He loved to take up challenges and I tried to follow him in my own humble manner. He would take up the most risky job and complete it successsfully. Even then he had a vision of making India a space power with satellite launching capability. I remember how he stayed focused in 1980 when he was working on the SLV3.  He had the remarkable ability to work round the clock without getting tired. Our association continued as we moved up in life and soon we became friends.
A famous Tamil poetess once said Dr Kalam and I were more like Krishna and Arjun. I don't know about the Arjun part of it, but he is definitely my Krishna.
I never asked him why he chose to remain a bachelor. After my marriage, Dr Kalam has been visiting our household often, spending a lot of time with us. When he got the Bharat Ratna in 1998, he specially invited my family to attend the function.
When his elder brother Muthu Meeran Labhai Maricar and my father S Yagnaswamy hugged each other at the function, Dr Kalam said he regretted not having had a camera to capture the moment.
Two months before he entered the race for President, I wrote a poem on him -- about how the sands of Rameswaran were going to enter Rashtrapati Bhavan and spread their fragrance like flowers.
My friends asked me if I had a premonition.
In July 2002 he became the President of India.
He loves to eat karela ki sabji, sambar, pickle and specially-made chutney with lots of chillies. He also loves sweet poli.
In May, he invited us to Rashtrapati Bhavan to celebrate the birthday of my grandchild Ashwin. He freely intermingled with us, even cut the cake and fed it to the child.
I am flying with him to Bangalore and will be with him on October 15 when he celebrates his 73rd birthday. I have got something special to give him.
His smile is his hallmark and relentless work his religion.
As told to Onkar Singh in New Delhi
Also read: Kalam: Full Coverage