Indira Gandhi would have winced.
When she was prime minister of India, well into her third term, Pramod Mahajan had not even won his first election.
Now, few would dispute that Indira Gandhi was a true Indian, even though one could take issue with Dev Kanta Borooah's exaggerated description -- 'Indira is India and India is Indira' -- during the Emergency.
But almost twenty years after her assassination, her grandchildren – Rahul and Priyanka Gandhi – are seen by Pramod Mahajan as not being Indian enough.
The general secretary of the Bharatiya Janata Party said last week that only people born of Indian parents should hold high offices in the country.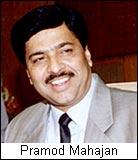 The statement came after Rahul and Priyanka's formal entry into politics. When translated, this means that because the Gandhi siblings have an Indian father and Italian mother, they are not eligible to become prime minister or hold any other high government post.
The Gandhi children have not responded to the remark. Neither has their mother, Congress President Sonia Gandhi. But condemnation has come in from the Congress party and other political parties like the Rashtriya Janata Dal.
What is it about children with mixed parentage that has made Mr Mahajan so cross?
What do children with one Indian and one 'foreigner' parent think of Mr Mahajan's statement?
This is what some of them told rediff.com:
Omar Abdullah, 34
President, National Conference and former Union minister of state for external affairs
Father Dr Farooq Abdullah is Indian (Dr Abdullah's maternal grandfather was Swiss); mother is English
The Constitution does not bar a person of foreign origin to hold any office.
The remark smacks of intolerance.
Whenever this issue comes up, they shift the goal post. With Sonia Gandhi, the issue was her being of foreign origin. Now with Rahul and Priyanka, they have again shifted the goal post and say that Indian origin means both Indian parents.
Why didn't this topic come up when I was made minister? My mother being English did not disqualify me from representing my country at the highest forum, alongside the President and prime minister. Why should it be counted against Rahul and Priyanka?
Rahul and Priyanka are as Indian as Pramod Mahajan.
I have never felt that I am not Indian. In J&K it did not matter, it was never an issue. To be honest, I never had to think of this.
These remarks would have upset me even if I wasn't in politics, they upset me now any way.
If there is anything that goes againt Rahul and Priyanka, it is inexperience, not parentage. And experience is something you gain as you go along in politics.
Rahul Akerkar, 45
Owner of Indigo, a premier Mumbai restaurant
Father is Indian; mother is American
These are politically convenient statements. It suits public sentiment because of the elections. There is no merit in it.
Rahul and Priyanka or anyone can become prime minister if s/he fulfills the criterion to become prime minister. And basically that criteria is citizenship.
There cannot be different degrees of citizenship. Either you are a citizen or not.
Under the Constitution, we are citizens and have equal rights. Regardless of heritage or lineage.
If one has to look this way then somewhere down the line, so many Indians would have Mughal blood. There has been so much cross-pollination that can be traced right back to Alexander!
So why just stop at immediate parents, why not go all the way to previous generations?
Then what about those who have come to India from other countries and have become Indian citizens of their own free will because they like the culture and have made it their home?
There is no difference between them and us.
Under the law, as citizens, we pay taxes, obey the laws of the land, are held accountable for a breach of law.
If there is a criteria for being prime minister, it should be literacy, rather than heritage.
Indianness is complex to describe. It is many things -- history, heritage… many things. I studied in America for 13 years and chose to come back because India is my home. My roots are here.
When I was growing up, I grew up in a liberal household. I was raised to be more of a good human being than a Hindu or of any other religion. It was more about knowing morally what was right and wrong.
Sharika Sharma, 29
Producing her debut television serial
Father Captain Satish Sharma is a Congress MP; mother is Dutch
I have never been made to feel that I am any less Indian -- because I look different people do ask me in shops where I am from and I tell them "main to yahi ki hoon, yahi school gayi thi [I am from here, I studied here]."
I have lived my life in India, I only went to do mass communication in California for four years. I never wanted to live in America.
There were so many of my friends and NRIs who used to ask me, "Why do you want to go back?" But I knew I wanted to work in India.
Luckily in my work environment I don't face that problem [that I am half Indian]. I feel very Indian. We are all the same. These kind of statements don't affect me.
Rahul and Priyanka have an Indian heritage. They identify with that Indian heritage. They are hundred per cent Indian.
Yes, if the masses felt this way, then they [Rahul and Priyanka] can be upset. But this is politically motivated and they are wise enough to realise this..
We are as Indian as anyone else, unless we had lived abroad.
Like I have a friend Natasha, who is also half Dutch. Though she looks more Indian, has darker hair than I do, she speaks fluent Dutch. Whereas I don't speak a word of Dutch. My mother came to India 32 years ago and learnt Hindi.
When I wear a salwar-kameez, I can pass off for a Kashmiri and I'm also named after a Kashmiri goddess. Indira Gandhi gave me that name.
Alesia Raut, 22
Model, featured in music video Meri beri ke ber mat todo
Father is Indian; mother is Russian
I was born in Moscow and came to India when I was 2, but I was brought up here. I have Indian cultural values, it would have been different if I was not brought up in India.
I don't think it is worth making such statements. My parents don't follow any religion. 'Being Indian or Indianness' is a tag given to people living in a particular part of the world. What is important is to be a good human being in the world.
My father went to study engineering in Moscow, my mother was also studying there and they met at a dance competition.
My mother first chose to learn Hindi before English because she wanted to learn the national language first. It was only much later that she learnt English, so today she speaks better Hindi than English.
I was never made to feel different because I am half Russian. Only my looks were slightly different -- height, colour of hair and skin -- I would get some attention because of that.
I respect Indian values and feel lucky to be part of it.
These statements do upset me, but I don't blame them. We have had our experience in the past. I try not to think about these things. But I have never been made to feel, neither do I feel different.
Main photographs: Sondeep Shankar/Saab Press, Jewella C Miranda and Ranjan Basu/Saab Press
Omar Abdullah: Sajjad Hussain/AFP/Getty Images
Design: Uday Kuckian