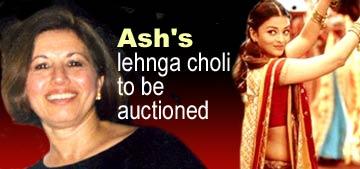 Some 300 New Yorkers will gather at Christie's and listen to a speech by New York's Senator, Hillary Rodham Clinton and an introduction by the United Nations Undersecretary General Shashi Tharoor February 4.  They will get a preview of Anand Jon's latest designs, as part of the New York Fashion Week, and watch Indian-Japanese funnyman Daniel Nannan's standup routine.
At $500 a ticket, the event organized by the Indo-American Arts Council will raise funds for the rehabilitation of tsunami victims in India.  The gala night, which includes food by Bukhara Grill and wines donated by Billimoria Wines, is expected to raise $500,000.
"We are sold out," said Aroon Shivdasani, IAAC's executive director. "We already have $150,000 in the bag."
The rest of the funds, she said, will be raised from an auction of 17 paintings donated to the event. The auction will feature art by Sohan Qadri, Matthieu Ricard, Satish Joshi, Salama Arastu, Bivas Chaudhuri, Murali Harathi, Natvar Bhavsar, Michelle Suna, Reeta Karmarkar, James Brown, April Gornik, Anna Walinska, Anand Jon, Jonathan Torgovnik, Krishna Reddy, Lisa Barsumian and Peter Dayton.
The auction will feature two unique items. A lehnga choli worn by Aishwarya Rai in Gurinder Chadha's Bride and Prejudice, a gift from Miramax, and an autographed set of drums donated by Carlos Santana. 
The auction will be conducted by Hugo Weihe, International Specialist Head of Indian and Southeast Asian Art at Christie's.
"When the tsunami hit, as it always happens, you wonder what you can do," Shivdasani said, adding that initially she considered donating money, since many institutions and celebrities jumped in to contribute to the cause. "At the same time many people started talking about showing support. The Arts Council only does things through the arts. We have raised money for the earthquake in Gujarat (then President Bill Clinton was the main guest at the fundraiser event four years ago), raised awareness about the riots there and we started our film festival around the time of 9/11."
"It was a bit of a delayed reaction. I suddenly got into gear and in less than five weeks we are here."
Funds raised at the event will be donated to tsunami relief projects in India. "I know that Prime Minister Dr Manmohan Singh has said we do not need immediate relief, but long-term rehabilitation is essential," Shivdasani said.  
Funds will be donated to the American India Foundation and Acumen Fund that provides clean drinking water and sanitation facilities. "We make sure the people who get the money, through their (AIF's and Acumen's) list are people who are transparent, secular and have no caste affiliation."
Shivdasani said the IAAC is registered as a not-for-profit arts organization. To send money overseas, the organization had to work with a registered US charity. "That's why we have asked people to make checks to AIF or Acumen."
The tsunami fundraiser is bound to feature a who's who of desi and other New York celebrities, but Shivdasani was reluctant to name them. She only said Jon's invited guests will include the Pittsburgh Pirates slugger Daryle Ward.
Due to prior commitments, writer Salman Rushdie, who has been an honored guest at several IAAC functions, will not be present at the fundraiser.  But the author sent in a check for $1,000, Shivdasani said.
"He was wonderful, and not like those people who say, I am going to be there, but never show up and not give you money."