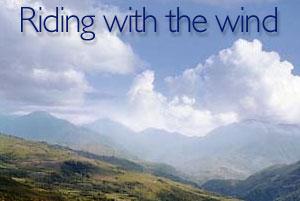 Around six years ago, I remember sitting with friends in a New Delhi colony and wondering why there weren't many adventure activities in India. After all, we have the most astounding and varied topography in the world -- Ladakh, Meghalaya, Arunachal Pradesh and the Rann of Kutch, if one were to take just four examples. The reply I got then -- and time and again later -- was that we didn't have enough resources.
There seems to be more to it -- even with resources in hand we seem content watching the National Geographic Channel or, at best, booking tour packages to Shimla or Goa.
Westerners seem to be exploring more of India than Indians; go to Dharamsala and you will find it teeming with Israelis (most Indian tourists there come from Chandigarh on weekend trips). During one of my first trips to the Himalayan town, I met a lady who had arrived from Bodhgaya. She had driven there by motorbike from Nepal and had even picked up a stray puppy along the way. Her final destination: the United States. I was impressed, of course, but also disappointed that I knew less about my country than this American woman did.
Times have changed.
A few months ago in Mumbai I met another lady -- an Indian this time -- who likes to travel. Nicolitta Pereira had just been to Khardung-La, 50 kilometres from Leh, the highest point in the world you can take your vehicle to, on an Enfield motorcycle. It was a 7,800 kilometre trip spanning four states. Some say it is a record for a woman, but she says it is immaterial. What is important, she says, is that she is part of 60kph, a bikers' club founded a couple of years ago by Gaurav Jani.

Gaurav can best be described as a wanderer. He used to work as assistant director to Bollywood director Ram Gopal Varma but soon realised all he wanted to do was ride the highways. So he purchased an Enfield and set off.
During one such ride to Rajasthan, he hit upon the idea of forming a club for Indian bikers. "I wanted to create a network of dedicated riders all over India who would help each other, share routes and maintenance tips."
The inspiration behind the club was the "love of seeing different places, especially remote places in India and, in future, abroad. To meet like-minded bikers who don't think it is a crazy idea to do a 50-day trip."
Though travelling was a bright idea, he soon realised he needed money to fuel his passion. "Now I sign up for a [movie shooting] schedule at a time. It can be for any director -- like Anil Sharma, who directed The Hero: Love Story of a Spy. That way I can earn money but am not committed to the whole project," says Gaurav, who has also worked on Varma's Road.
In the one-and-a-half years since 60kph's existence, Gaurav says they have made two 35-day trips, one 15-day trip to the south, plus countless small rides individually and in groups. He himself has made two trips to Rajasthan, two to Kashmir and Ladakh, two down south, one to Himachal Pradesh, one to Gujarat and one to the northeast.
"Life can be mundane. I was lucky enough to realise that and, coupled with the fact that I have an Enfield, I felt I could leave a regular job and do something I really wanted to do," he says.
"Travelling for me is all about losing your identity and becoming part of the land and the people. That is the only way a traveller can achieve what he sets out to achieve, to return from a trip, notice the changes and never forget."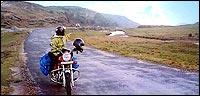 It is a feeling shared by most 60kph members.
Mumbai-based Nicolitta, a bridal wear designer, says, "Riding, travelling and seeing places gives me a sense of freedom and a sense of being one with Nature. It helps me unwind. I forget about everything else once I am on the bike. Riding gives me a high, a kind of high not comparable to any other experience. It is almost an addiction."
Satish Rao, a 60kph member who heads Himachal Futuristic Communication Limited's call centre in Bangalore, says it is difficult to travel when one has a full-time job, which at times stretches to 14 hours a day. "But since the passion for biking is strong," he adds, "I have managed to be on all of 60kph's big rides. I have been to Leh-Ladakh twice and once to Kanyakumari with this group."
Amol Shukla, another member of the group, is the resident expert when it comes to motorcycles. An automobile engineer in Ahmedabad, Amol is into "modification of bikes and restoration of vintage bikes." Since he also happens to be well-travelled, the other group members turn to him for advice.
"I went to Ladakh this year with 60kph. I've have taken a three-year-old Kinetic Honda to Khardung La in 1998. In 1995, I did the Indian Peninsula, that is the Indian coastline, on a Bajaj Super Scooter." He has even has explored interior Gujarat, Rajasthan, Maharashtra, Karnataka, Goa, Himachal Pradesh, Uttar Pradesh, Garhwal, Uttaranchal, Punjab and Haryana.
Though it sounds like a joyride, a lot of planning and hard work goes into each 60kph trip.
Preparations for a major trip begin almost six months in advance. Getting the bikes ready and in perfect condition, making sure everyone takes leave from work simultaneously, planning the routes, buying the equipment needed like tents, spares, riding gear, windcheaters, jackets, shoes, thermal suits, maps, food, stoves, torches, extra fuel... each and every little thing matters; even the lack of a needle at times can be a problem.
This is where teamwork counts. Invariably, someone takes responsibility for, say, balaclavas. Someone else arranges for the bikes to be serviced at one particular workshop. Someone takes help from a relative in the Army and arranges for accommodation in a remote place that is part of the route.
Then, there are the greenhorns to guide. Going on a big trip needs good biking and navigational skills. Taking care of those who don't have much experience is important. On one trip to Ladakh, one of the bikers met with an accident and broke his collarbone. He had to be evacuated to Leh before being flown to Mumbai; his bike was later sent over with a transport company.
The most important quality one needs to be a 60kph member is unflappability. To dig deep when the chassis of the bike breaks, separating the engine from the handlebar, which is what happened to Nicolitta. 'I finally broke down and was in tears,' she wrote later on 60kph's Web site. The team members tied the bike together and slowly rode it to a nearby Army depot where, after a lot of cajoling, the bike was welded back together.
Though it is rare for a chassis to break, punctures are common. And when you are on a high altitude desert, at least a 100 kilometres away from any kind of civilisation, having the right kit and the ability to carry out minor repairs counts.
A little support always helps.
Nicolitta says she owes it to Gaurav "for encouraging me." She adds that earlier she could not go on long trips because it "is not safe to ride alone."
On long trips, small mistakes can turn into disasters -- for example not paying attention to sand and getting stuck on a road with a 40-degree gradient. It happened to me and it was a miracle that I got out in one piece. Then there are the freezing streams to cross; dirt tracks that are listed as national highways on maps; high altitude sickness and numerous other problems.
"I had everyone's support; there were no big problems. Little things like how and what to pack, maintaining my bike, parking my bike on an uneven road, etc, were all taken care of thanks to the group members," Nicolitta says, reminiscing about the Ladakh trip.
"I don't know much technically, so the tech guys -- Amol, Allwyn and Gaurav -- took care of the problems with my bike. I was never left alone; someone was always riding behind me, so I knew I was safe at all times."
She loves the fact that no one overdoes it. "They let me tackle difficult roads on my own and make my own decisions. They helped only when it was really needed."
Satish adds, "I owe a big one to Gaurav for pushing me on my first bike trip to Ladakh in 2002. We spend so much time -- some times three-five weeks -- with each other during rides that we tend to depend on each other for support."
The group also receives support from various organisations like the Border Roads Organisation and Royal Enfield.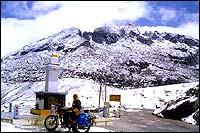 "Royal Enfield [the motorbike company] has supported us on all our rides with free oil, service and spares. In fact we are the only club that receives constant moral and financial support from the company," says Gaurav.
Tying a trip with various causes helps. The group undertook their second trip to south India in 2002 to support a charitable organisation, Round Table 19, that was conducting Olympics for mentally challenged kids and distributed forms for the games in Kerala, Tamil Nadu, Karnataka, Goa and Maharashtra.
The Ladakh trip was undertaken with the help of the BRO and the Army. In fact, the trip was dedicated to the BRO, which builds and maintains India's border roads and loses about 400 of its workers each year in the process.
What makes all the hardship worth it are the Kodak moments: It could be anything from the members sitting on their bikes parked side by side in a desert, hands held high, surrounded by brown hillocks, or five people huddled together in a tent for two, praying that the incessant rain would stop soaking them to the bone. The best returns from these trips are the memories -- of the time when a bike was stuck in a frigid stream and everyone had to takes turns to push it to dry land; the Army truck that one avoided on a hairpin bend; even the camel that stuck out its tongue at them when they were running out of steam on a Rajasthan highway...
Barely does the dust settle on one trip and the 60kph members are planning the next one. In fact, after the Leh trip, the members joked that they were suffering from low altitude sickness. Their next destination is Uttaranchal in February 2004 followed by the biggie, the northeast, in September 2004. These bikers have just one dream -- to see the world at 60kph.
Gaurav Jani can be contacted at 91-22-28774620 or intouch@60kph.com; Web site: http://www.60kph.com.
Image: Uttam Ghosh