February 7, 1968. Chandigarh. It was seven in the morning. Just before leaving for duty, Radio Officer Flight Sergeant A D Somasundaram told his wife Vijayalakshmi he would skip the afternoon parade and come for lunch at 1.30.
It was past 1.30 but there was no sign of him. Vijayalakshmi assumed he must have decided to attend the parade. That meant he would only be back by 5.30 in the evening.
It was past 6 pm, but there was no sign of Somasundaram. When a worried Vijayalakshmi called the base, she was told her husband had been asked to go to Leh urgently and was expected back soon. She felt reassured when she was smilingly told to prepare a delicious dinner for her husband.
Vijayalakshmi made a vegetable curry and readied the dough so she could serve her husband hot chappatis for dinner.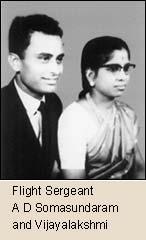 But her only visitor, late in the evening, was a senior officer from the air signalling office. He told her Somasundaram would be back only the next morning; they were not sure whether he had stayed back in Leh or flown to Delhi.
Vijayalakshmi was beginning to worry. Why did a senior officer come personally to tell her this? Had anything gone wrong?
She wasn't able to sleep that night. The next morning, she made breakfast and waited for her husband. There was no news from him, or about him, till 1.30 in the afternoon. Then, All India Radio announced an Indian Air Force Antonov AN-12-BL-534 carrying six crew members and 92 Indian Army personnel had gone missing near Rohtang Pass, very close to India's border with Pakistan.
Tears rolled down her cheeks.
Other officers and their families came to console her with stories of missing officers that had ended on a happy note. "I was so rudely shaken," Vijayalakshmi recalls, "that I could only listen to all of them. But the moment they left, I would cry. They also forced me to eat something as I was still breast-feeding my seven-month-old son."
The base sent her father a telegram in her name, asking him to come to Chandigarh immediately. It was only during his journey to Chandigarh that her father saw newspaper reports about a missing IAF plane and that his daughter's husband was one of the men aboard the plane...
A week passed. Then a month. Vijayalakshmi was constantly assured by senior defence personnel that her husband would return. "They gave me false hopes," she says in anguish, "when they were aware the plane was missing and there was no chance of my husband ever coming back."
After a month, Vijayalakshmi and her eight-month-old son returned to Chennai, to pick up the threads of their lives without her husband.
Somasundaram, who joined the Indian Air Force in December 1952 -- he was just 18 years old -- had just been promoted to flight sergeant on February 1, 1968. Six days later, he disappeared.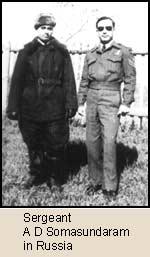 Vijayalaskhmi was told an intensive search had been carried out between February 15 and March 26 by a plane flying at low levels. When the weather improved, a team from Russia was brought in to aid the search. She also received unofficial information from the 25th Squadron that an on-ground search was conducted from March 2 to November 2 after the weather conditions improved. There was no trace of any wreckage.
Even though the search continued till November, Vijayalakshmi says she received a letter on July 16, 1968, from the Air Force Head Quarters, New Delhi, saying all 98 occupants of the plane were 'missing and no more for Official Purposes.'
"We were surprised by the date of the letter. It was dated July 16, while the search apparently continued for two more months. What did it mean? How did they come to the conclusion that they were missing and no more even before the search was over? Where did the plane carrying the 98 defence personnel disappear? What was their mission? Did the plane enter the Pakistani air space and was it forced down?" Thirty-five years later, Vijayalakshmi is still looking for the answers to her questions.
"That's why I am so sure the plane had not crashed," says the feisty lady. "The AN-12 is not a small plane. It is an aircraft that is more than 32 feet in height. How can it be so deeply buried in ice and snow in such a short time that it could not be located? The last contact they had with the plane was at Rohtang Pass; today, the place is a tourist spot. Am I to believe they could not find even a single piece of the aircraft?"
It is this strong belief that makes Vijayalakshmi continue her relentless search for her husband, writing letter after letter to every possible authority, including India's many prime ministers over the years, and visiting every place where she believes there could be some clue.
"I stayed with my husband for only 15 months. He was 35 when he went missing. He should be 70 now!" she says. Vijayalakshmi herself is 67 years old. And their son, Ram Narendran, is 36.
Vijayalakshmi, who faced Fate's backlash bravely, found it difficult to manage on the monthly pension of Rs 136 granted by the Air Force. The pension was reduced to Rs 105 after a year. So, two years after her husband disappeared from her life, she decided to join the Railways, where she had worked before her marriage.
Part II: 'I believe he is imprisoned in a Pakistani jail'
Vijayalakshmi Somasundaram's photos: Sreeram Selvaraj
Image: Lynette Menezes