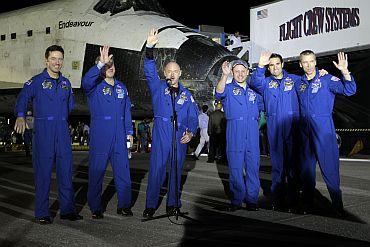 Endeavour and its crew safely returned to the Earth on Wednesday after 16 days, successfully completing its last mission and the penultimate flight in NASA's 30-year-old space shuttle programme.
The space shuttle, carrying six astronauts, safely landed at the Kennedy Space Center in Merritt Island, Florida. It flew 25 missions and more than 122 million miles in its 19-year long career.
Atlantis will take off for one final time in five weeks on NASA's 135th and the last space shuttle mission.


Endeavour, the youngest of the US space shuttles, made a perfect pre-dawn landing and the mission control told its commander Mark Kelly, "Your landing end a vibrant legacy for this amazing vehicle that will long be remembered."
Endeavour will now make its way to a museum in California as NASA is going to retire its entire space shuttle fleet before the end of this year.
Last manned shuttle-mission, Atlantis, is set for 8th of
July. Afterwards, the US will rely on Russia's space capsules for transit to the International Space Station.
NASA's shuttle replacement is expected to emerge sometime between 2015 and 2021.
Endeavour's commander Mark Kelly is married to Congresswoman Gabrielle Giffords, who is recovering from an assassination attempt earlier this year.
Kelly's fellow astronauts on this mission wore blue bracelets reading "Peace Love Gabby" during the 16-day flight - a sign of solidarity and support.
"The space shuttle is an amazing vehicle to fly though the atmosphere...On behalf of the entire crew, I want to thank all of the people that worked on the mission," Kelly said after landing.
"It is sad to see her land for the last time, but she really has a great legacy," he added.
NASA Manager Mike Moses joked, "After 16 days I am sure they are glad to get back and to take a shower!"
Endeavour undocked, then flew around the International Space Station on Sunday for a flawless re-entry across the Pacific ocean, Central America, and into Florida, gliding onto Runway 15 at the Kennedy Space Center. Its arrival heralded by its signature double sonic boom.
This mission set several records -- the second spacewalk of the mission by astronauts Drew Feustel and Mike Fincke ran over eight hours, and Mike Fincke set a new record for time in space for a US astronaut -- 380 days.
The crew installed the AMS -- a $2 billion dollar cosmic ray detector, which is now gathering billions of samples daily from space in the quest to prove -- or disprove -- the Big Bang Theory of how our universe was formed.
It was a bittersweet night at the Kennedy Space Center, one space shuttle landing, another rolling out to the launch pad.
Atlantis is now on the launch pad getting outfitted for the final flight, STS 135, which is scheduled to launch in July, on a critical supply mission to keep the International Space Station.
The crew of Atlantis calls themselves 'The Final Four'. Their mission may not sound glamorous, but the supplies they bring up will keep the space station operating at full capacity.
Commander Kelly and his crew return to Houston on Thursday for a reunion with their families.
Endeavour's 25th and final flight caps a remarkable career.
Commissioned to replace Challenger after its destruction, Endeavour first soared in 1992 on a satellite-rescue mission and later executed a series of missions that have been daring and breathtaking, accomplishing feats some thought were not possible in space.
On previous flights its crew repaired disabled satellites, flew cutting edge, sometimes goofy, medical experiments -- and flew a Coke machine that didn't quite work.
One of its crews staged the only three person spacewalk. Its most spectacular mission was when it flew into high orbit -- something engineers were not sure it could do – and had the nation sitting on the edge of its seat when it repaired the crippled Hubble Space Telescope.
The shuttle's numbers tell the story -- 299 days, 4,671 orbits and 122,853,151 miles logged.
Image: The crew of space shuttle Endeavour wave after landing in Cape Canaveral
Photograph: Reuters