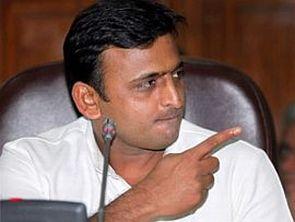 Uttar Pradesh Chief Minister Akhilesh Yadav took everyone by surprise on Wednesday, by taking a bold decision to suspend the party Member of Legislative Assembly Mahendra Kumar Singh, who was caught red-handed with prostitutes in a Goa hotel and arrested by the local police there on Tuesday.
Together with him, Akhilesh also ordered suspension of two other MLAs for the indulgence of their sons in criminal acts.
While Ram Lal Akela, the party MLA from Rae Bareli was suspended because he failed to restrain his son Vikrant Akela from running a bull-dozer over the house of a doctor in his constituency, Radhey Shyam Jaiswal, the MLA from Sitapur faced the axe on account of his son Shailendra Jaiswal's opening fire on labourers in their hometown.
Both MLAs were known for indulging their sons, who were reported to have become law unto themselves.
The action was prompted against the them after the ruling Samajwadi Party came under fire from different quarters following Singh's arrest in Goa, where he was also charged under the Immoral Traffic Act.
The 58- year old four-time SP MLA was accused of arranging some half a dozen prostitutes, who were found in his company .
The other two MLAs had already brought a bad name to the party but the infamy earned on account of the Goa episode led Akhilesh to crack the whip, much against the wishes of some of his peers in the family.
Perhaps this as the first time after he rode on to the hot seat in March 2012 that Akhilesh took a bold step and resisted pressured from within the party. The last time he was seen putting up a tough stand was when he single-handedly opposed the entry of western UP mafia don D P Yadav, whom his father as well as other seniors in the party were quite inclined to award a party ticket at the last state assembly election.
And that was when he was seen as an architect of change in a party that was infamous for its proximity with criminals.
Image: Uttar Pradesh CM Akhilesh Yadav