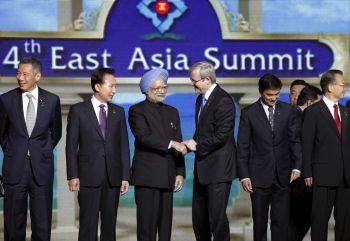 With most of the South East Asian countries hit by terrorism, Prime Minister Manmohan Singh on Sunday said countries in the region have agreed to exchange of information and intelligence among them to combat the menace.
Addressing a press conference at the end of his three-day visit to attend the Association of Southeast Asian Nations-India Summit, Singh said, "There is a general agreement that there should be cooperation in counter terror measures and there should be an exchange of information and intelligence. On this all countries are agreed."
"There are countries that are affected by terrorism, there is Thailand, the Philippines and Indonesia," he said in a reply to a query.
The prime minister also said the summit also agreed that the issues of terrorism and non-traditional threats to security have to addressed with resolve and firmness.
Earlier, at the East Asia Summit, the prime minister also pointed out that many Asian countries face the spectre of terrorism and said that there are growing threats from non-traditional sources, such as piracy, transnational groups and extremist ideologies.
"I agree with the President of Indonesia (Susilo Bambang Yudhoyono, who expressed similar views). This will increasingly require a concerted and cooperative response in the coming period," he said.
Image: Prime Minister Manmohan Singh (third from left) is greeted by Australia's Prime Minister Kevin Rudd at the fourth East Asia summit on Sunday | Photograph: Barbara Walton/Pool/Reuters