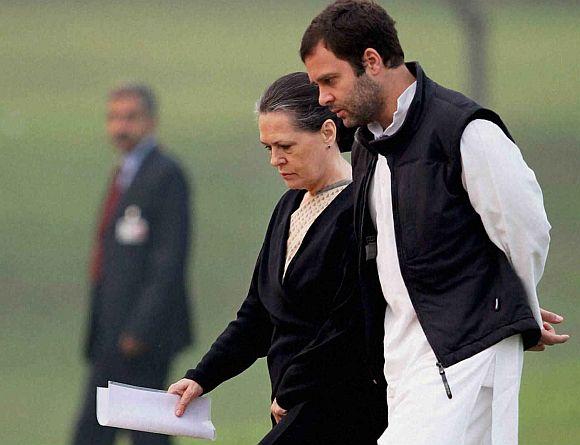 Congress president Sonia Gandhi and vice-president Rahul Gandhi will lead a march of party leaders to Rashtrapati Bhavan on Tuesday to appeal to President Pranab Mukherjee to use his constitutional powers to end the "atmosphere of intolerance".
The Gandhis and other party leaders will march from Parliament House to Rashtrapati Bhavan to plead with the President that as head of the nation, he should ensure an end to "the atmosphere of intolerance, intemperate behaviour, violence and communal polarisation", Congress sources said.
Members of the Congress Working Committee, AICC General Secretaries and office-bearers and party MPs will be part of the delegation meeting the President, who has repeatedly sought to underline need to preserve India's core values of diversity, tolerance, and plurality of Indian civilisation.
The move by the opposition party came in the backdrop of protests by artistes, writers and scientists over alleged "rising intolerance" reflected in the Dadri lynching, beef row and other such incidents.
Two days ago, Sonia had expressed her concern over rising intolerance and had vowed to fight the "diabolical design" of divisive forces to spread hatred which, she said, posed a threat to the unity of the country.
"Organisations and people of a particular ideology are spreading it to divide people. We are under no illusion that it is an accident. The hate, violence and petty mindedness is being unleashed as part of a pre-determined plan," Sonia said.
Prime Minister Narendra Modi on Monday targeted Sonia Gandhi, saying the Congress president has no moral right to lecture the NDA on tolerance and it should "hang its head in shame" for the 1984 anti-Sikh riots where thousands were massacred.
Congress hit back saying like in 2002 post-Godhra violence, Modi has "forgotten Rajdharma" in 2015 too as he was an "endorser of intolerance by his studied silence" over acts of hate and violence.
Congress also accused the prime minister of doing "lasting damage" to country's social fabric by "selective targeting of the minority community".
On the eve of the Congress march, Sonia had a meeting with the president on Monday, but it was described as a courtesy call by the AICC. Sonia had sought a meeting with the President after she could not attend a banquet hosted by him for African leaders last week due to indisposition.
Sonia had led a march of opposition leaders to Rashtrapati Bhavan during the Budget Session earlier this year to protest against the controversial land ordinance which was dubbed by the Congress as "anti-farmer" and "pro-corporate".