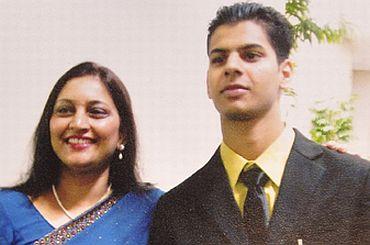 Seven years ago, parents of Rahul Sharma, 20, who was gunned down on April 5, immigrated to the San Francisco Bay Area to pursue the American dream. But things did not turn out as planned, and the death of their son has totally jolted the Sharma family.

According to Fremont police, Rahul was shot in the head and killed in Fremont's Centerville neighbourhood.

Police found Sharma lying in a driveway of an apartment complex at 11 pm in the 4200 block of Central Avenue. The reason of him being shot is not yet clear and the police have released a sketch of a suspect in the homicide.

"This is an active investigation," Fremont Police Chief Craig T Steckler told rediff.com.

"In my 20-year tenure as police chief, we have not had a member of our Indian community murdered," he added

Rahul's father Prannath Sharma, a native of Jalandhar, Punjab, recalling the unforgettable Thursday incident, told rediff.com that his son had left home early morning at about 8 am and returned late at 9:30 pm.

The GED student at the Fremont Adult and Continuing Education programme was talking to his mother when at around 10 pm he received a phone call from a 'friend'. He was in his T-shirt and pajama, and waited at the parking lot for quite some time.

"We assume, he went out at night with his friend, when he was shot from behind. I am sure he was in a car; either he was shot inside the car or possibly outside," Prannath said.

"I still do not believe that my son is dead," said Prannath, adding, "We never gave him a cell phone or saw any bad habit in him."

Prannath said he never wanted to come to the US, as he was a well-known

person at Jalandhar.

"Life is not easy here and since I have lost my son, I want to go back," said Prannath, who has been without a job for the past eight months.

He added that he never allowed Rahul to work, even though the family has been struggling to survive since he moved from India.

"Har chamakne wali cheez sona nahi hot (Everything that glitters is not gold)," said Prannath.

On April 6, Prannath was supposed to open the new produce shop in Oakland, which he had obtained on lease.

"I waited for Rahul to come home early. I was not sure where he spent the day and why somebody would kill him," he said.

Rahul and his parents used to go to the Jehovah's Witnesses to study the bible.

"He said Jehovah's Witnesses is a special place for us," said Prannath, adding, "Rahul sometimes used to write a letter to us saying 'I love you dad'. I have kept the letters near my pillow," said Prannath.

"I miss him," said the grieving father.

Rahul never craved for money and wanted to run a small business to have a peace of mind. He had two sisters -- Mehak (18) and Deepti (22) -- and a one-year-old brother. He came to the US at the age of 14 and struggled with his studies.

"He sometimes felt isolated though. He was closer to his mother than me and shared his thoughts with her," said Prannath.

Meanwhile, the North American Punjabi Association has condemned the murder and demanded a high-level inquiry into it.

Association president Satnam Singh Chahal claimed that racial discrimination towards the Punjabi community existed throughout the US and that people from the community were facing racial discrimination and such attacks there every day.