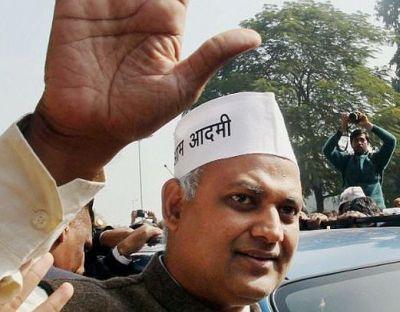 Finally breaking his silence, Delhi Chief Minister Arvind Kejriwal said that the former law minister and Aam Aadmi Party lawmaker Somnath Bharti, who has been booked in a domestic violence case, is becoming an embarrassment for the party and his family, and therefore should surrender.
"Somnath should surrender. Why is he running away? Why is he so scared of going to jail." Kejriwal tweetedon Wednesday morning.
"Now he (Somnath Bharti) is becoming embarrassment for party and his family. He should cooperate with police (sic)," he added.
The AAP MLA is facing arrest in a domestic violence and attempt to murder case filed by his wife, Lipika Mitra. The Delhi high court had on Tuesday dismissed Bharti's anticipatory bail plea.
Almost 50 officers and eight police teams are on the look out for the AAP MLA, who has reportedly gone underground. The office and residence of Delhi's former law minister Somnath Bharti were raided on Tuesday, but the police said he could not be found.
On June 10, the Delhi Commission for Women had served a notice to Bharti after Mitra accused him of domestic violence. She has alleged that she has been facing violence at the hands of Bharti since 2010, adding that she wants a separation in order to live with her children 'with dignity'.
Meanwhile, a "surprised" Lipika Mitra thanked Delhi the Delhi chief minister for asking Bharti to "surrender".
"It's good that the chief minister has finally spoken out albeit after taking so much time. I am grateful to him," Mitra said.
Expressing her surprise over Kejriwal's stand, she wondered why the Aam Aadmi Party made Bharti speak on an issue such as 'women empowerment' during a one-day special session of the Delhi assembly in August.
"Considering they were defending him and made him speak on such issues I am definitely surprised that the chief minister has taken this stand... He should act as a CM first and friend later," she said.
Hunt for Bharti continues
Around eight persons were grilled on Wednesday by police as their search continued for Bharti.
"The suspects questioned for several hours on Wednesday include the legislator's brother Loknath Bharti -- whose name is also present in the complaint filed by Bharti's wife Lipika Mitra -- and Bharti's private secretary.
"Apart from these, a few other employees in Somnath Bharti's office and party workers from Malviya Nagar and Khirki Extension areas were questioned," said Joint Commissioner of Police (Southwest), Dependra Pathak.
The eight persons are all under police scanner for allegedly harbouring Somnath Bharti, he said, adding that his private secretary is suspected to be the last person whom the MLA met before he went untraceable.
Meanwhile, senior officials denied having questioned Somnath Bharti's sister Divya Stuti, who has claimed that she was summoned to the police station for questioning twice during the day.
The MLA's brother and private secretary were on Tuesday night picked up by police and taken for questioning. They were allowed to leave in the wee hours today while two more close aides of the former Delhi minister were picked up in the next few hours.
Somnath Bharti's brother and private secretary were summoned again to the police station on Wednesday.
Those called for questioning were put through queries on the nature of the work they are involved in to their potential knowledge about the MLA's alleged misconduct and his present whereabouts, said a senior official.
Pathak said that around 12 people, including the eight called for questioning, were under police scanner for allegedly "harbouring" the MLA.
"Harbouring Bharti is a criminal offence punishable under the law," he added.
Several police teams are conducting raids across NCR at Noida, Ghaziabad, Faridabad and Gurgaon in order to trace Somnath Bharti. The AAP worker who sheltered the MLA the last time he was evading arrest has also been called for questioning, the officer said.
Bharti today moved Supreme Court seeking protection from arrest in the case in which Delhi high court has rejected his anticipatory bail plea.
The controversial MLA has sought a direction from the Apex court that Delhi Police be restrained from arresting him until his petition challenging the high court order is decided, his counsel said.
However, Delhi Police claimed that as per their knowledge, Bharti had not moved the Apex court so far.
"We are constantly being informed about the case and our counsel has not communicated anything to us about Bharti moving Supreme Court," said a senior officer.
With inputs from PTI

Image: AAP lawmaker Somnath Bharti