'We will comfortably sail through this sea of fire.'
Prasanna D Zore reports.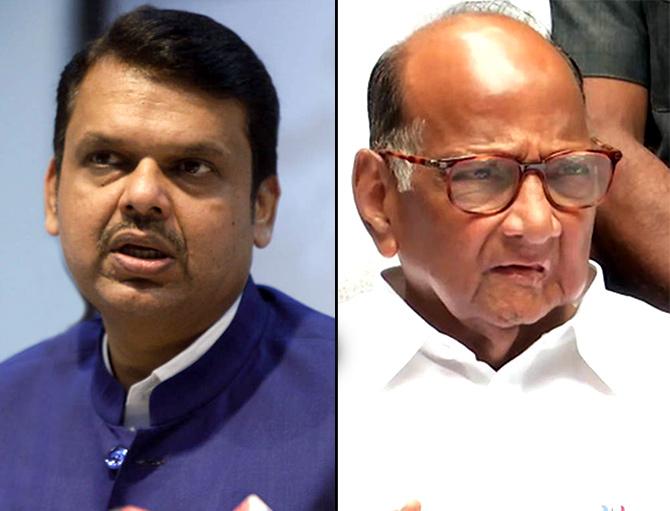 Amid the flurry of claims and counter-claims made by leaders from all the four major political parties -- the Nationalist Congress Party, Bharatiya Janata Party, Shiv Sena, Congress -- in Maharashtra, its spokesmen aren't shying away from scoring political points at every opportunity.
When asked about Ajit Pawar's claims that the NCP had originally thought of aligning with the BJP and the plan of joining hands with the Shiv Sena came much later, the NCP's Nawab Malik was quick to respond: "Ajit Pawar negotiated a deal with the BJP all by himself; he would know."
"How will I know if Ajitdada said anything like this and how will I know if someone met Amitbhai (BJP President Amit Anilchandra Shah)?" asked the BJP's Madhav Bhandari.
When asked about Chief Minister Devendra Fadnavis's fate after the floor test in the state assembly, both Bhandari and Malik were gung-ho about their parties's respective victories.
"Bilkul nahin! aur numbers badhenge (Of course not! the numbers will increase)," declared Malik, claiming that his party was not worried about cross-voting by NCP MLAs in favour of the BJP even if there were to be a secret ballot.
"Some more NCP MLAs are in touch with us and we will also get their letters of support and votes on the floor of the House," Malik added confidently.
"We will have to prove our majority and we are very well prepared for that. We have more than 145 MLAs to prove our strength in the House," Bhandari stated.
"We don't believe in showing off how many MLAs will vote for us," Bhandari added. "Everybody will see it on that day," taking a jibe at the Shiv Sena, NCP and Congress leaders's visit to Raj Bhavan on Monday morning to submit letters of support from 162 MLAs.
According to Bhandari, the Shiv Sena, NCP and Congress have been on the defensive since Sunday when the Supreme Court asked if they had approached the governor to stake a claim to form the government.
"Their lawyer Kapil Sibal's face-saver was: 'I don't have any idea'," Bhandari said.
Malik, who seemed to be in a relaxed mood after his party successfully weaned back 10 NCP MLAs who had gone with Ajit Pawar to attend the swearing-in ceremony on November 23, responded with an Urdu couplet when asked about the Shiv Sena-NCP-Congress bid to form the next government in the face of extreme difficulties.
"Idhar falak ko zidd hai bijliyan girane ki (The sky is firm to hit us with lightning and destroy us); Udhar hamen bhi hai dhun aashiyana banane ki (But we are also equally determined to build our house)."
Asked if the Jigar Muradabadi couplet would return to haunt the Sena-NCP-Congress combine, Malik said, "We will comfortably sail through this sea of fire."
Prasanna D Zore covers both national and Maharashtra politics. He can be contacted at prasannaz@rediff.co.in.