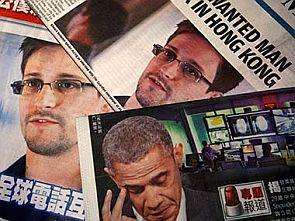 Refusing to buy the argument that former Central Intelligence Agency contractor Edward Snowden is a political dissident, the United States has demanded that the American national wanted on felony charges must be returned to the US.
The White House denied reports that the US has threatened or is considering any physical threat to Snowden, 29, who is currently in Russia and has sought asylum in Ecuador, which is said to be his final destination from Moscow.

"Of course not," White House Press Secretary Jay Carney, told reporters when asked about allegations from the Wikileaks founder Julian Assange in this regard.
"The distinctions (between a political dissident and Snowden), are pretty evident if you look at them clearly," Carney said when a Russian journalist during the daily White House news conference claimed that the US has been supporting people like Snowden throughout ever since the Soviet days.
"When it comes to Snowden, he's been indicted for the unauthorized release of classified information and again. If his passion here is for press freedom and freedom of the Internet and the like, that he has chosen unlikely protectors," Carney said.
"There are real distinctions between the legal regimes that have been in place in different countries at different times; the consequences of violating laws and being charged with laws in different countries at different times," he said.

"We very clearly believe that Snowden ought to be returned to the United States to face the charges that have been set against him through and open and clear legal process that we have in this country," he said.

Carney also challenged Snowden's assertion that he took such decision in support of freedom and transparency.

"Let me say this about that question, which is that Snowden's claim that he is focused on supporting transparency, freedom of the press and protection of individual rights and democracy is belied by the protectors he has potentially chosen: China, Russia, Ecuador, as we've seen," he said.

"His failure to criticize these regimes suggests that his true motive throughout has been to injure the national security of the United States, not to advance Internet freedom and free speech," the White House Press Secretary said.

Noting that the unauthorized disclosure of classified information and the kind of information that has already been disclosed, has an enormous negative impact, Carney said the Obama Administration is currently doing damage assessments.

"But certainly it would be our assumption that any further classified information that he has that has not yet been divulged publicly would be compromised or has been compromised," he said in response to a question.
President Barack Obama, he said, has been updated by his national security staff continually on developments.
"I don't have a characterization of his reaction to developments, except to say that he's monitoring it closely and that the disappointment that we feel in the handling of this by Hong Kong authorities and the Chinese is evident," he said.