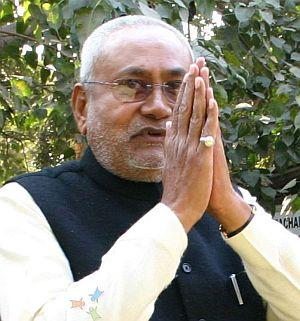 The protesting contractual teachers on Friday threw slippers towards Chief Minister Nitish Kumar at his public meeting in Bihar's Madhepura district, official sources said.

A contractual teacher hurled his slipper towards the chief minister, but it fell some distance from where the latter was standing on the dais and was being garlanded by his supporters, the sources said.

The security personnel tried to identify the protester, but he escaped by joining among audience gathered there, they said.

The chief minister's public meeting proceeded without any more interruption amid tight security, sources said.

Earlier, the police detained 23 contractual teachers for allegedly planning conspiracy to sabotage Kumar's 'Adhikar yatra' in the district, a police officer said.

The detenues have been lodged at Madhepura police station, Deputy Superintendent of Police (DSP) H S Dwivedi said.

It was for the third time in the past fortnight that the chief minister has either being shown slippers or the same hurled in his direction after the contractual teachers did so in Betiah and Darbhanga.

He said that he was unfazed by the protests and will carry on crusade to attain special category status to Bihar.