Video: Modi saris, Modi laddoos!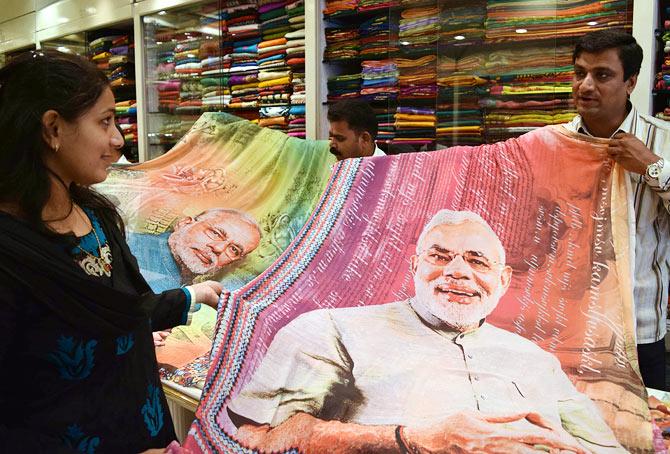 That India is in the grip of Modi mania is evident. Why else would Modi saris and laddoos sell like the proverbial hot cakes?
Text: Nithya Ramani
Video: Afsar Daytar
Flint-skinned Mumbai has not escaped NaMo mania.
Whether it is saris imprinted with his face, or laddoos to celebrate his victory, Mumbai is intoxicated by the election spirit.
Popular sari store Paaneri's latest collection of georgette saris -- on which it has digitally printed Modi's face -- has been a hot selling product. "We sold about 150 saris in five days," says Paaneri CEO Vinod Gada.
Paaneri earlier experimented with saris featuring Bollywood stars, but neither Salman Khan nor Madhubala could sell as many saris as NaMo has done.
Video: Modi saris, Modi laddoos!
Some distance away, in Girgaum, mithai store Shri Ganesh Bhandar has prepared over 25,000 laddoos to add that touch of sweetness to BJP's victory celebrations.
The order has been placed by the local BJP unit.
Working for over 12 hours a day for four days, the halwaii had to bring in extra manpower to be able to deliver the ball-shaped sweets.
"Our staff strength is around 30. We had bring in about 10-15 more people to help finish this order," said Sanwarmal Bajia, sales manager at Shri Ganesh Bhandar, which is run by Bramhas Sri Ganeshji Charity Trust.