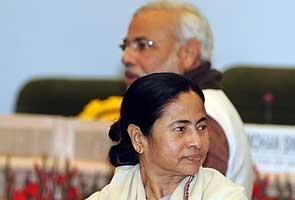 'The Trinamool Congress is desperate and helpless. They know that their popularity is waning.'
'As far as the CPI-M is concerned, it will get no less than 18 seats.'
'Mamata Banerjee doesn't have the political maturity to take defeat in her stride. She is an autocrat…'
Veteran Communist Party of India-Marxist leader Mohammed Salim in an interview with Rediff.com's Indrani Roy speaks about volatile atmosphere in Bengal this election season, the prospects of the Left and more.

The state Election Commission ordered re-polling in five booths only while you had asked for a re-election in 3,200. . .
We are disappointed. The election was a farce.
The Trinamool Congress had resorted to every possible malpractice to ensure their victory. Re-polling was essential in all the 3,200 booths as per our demand but then the state Election Commission thought otherwise. Wish the verdict were different.

Special Coverage: Election 2014
Why is there so much poll-related violence this time?
The Trinamool Congress is desperate and helpless. They know that their popularity is waning and in their last ditch effort they are attacking the Left leaders and their followers.
West Bengal Chief Minister Mamata Banerjee doesn't have the political maturity to take defeat in her stride. She is an autocrat and will typically try to terrorise people so that they can't raise their voice against her.
This way, she wants to sweep her party's misdeeds under the carpet. Many innocent lives are getting slaughtered as a result.
Bharatiya Janata Party's prime ministerial candidate Narendra Modi had been vociferous in his criticism of Banerjee and vice versa. . .
(Laughs) Both are playing got-up matches.
Eta notun paoa shalee bhognipotir jhograr moto. (The repartees remind me of flirtatious exchanges between a man and his newly-wed wife's sister).
If the National Democratic Alliance led by the BJP (Bharatiya Janata Party) closes in on the magic figure, the two Ms will waste no time to wave an olive branch and shake hands.
Neither Modi nor Banerjee have said anything against the TMC or the BJP respectively. They have only 'teased' each other just to hoodwink the people. Those remarks should not be taken seriously.
How many seats do you think the BJP will win in the state?
It will struggle to retain its lone seat. There is no Modi wave yet in Bengal as many pundits claim. However, I do believe that the BJP will eat into many votes of the Trinamool Congress.
Why so?
The middle-class plays a decisive role in any election result. A big section of them is anti-Left but it had found in the Trinamool Congress a new hope. However, that hope was short-lived and the middle class is now angry with the 'poriborton-seeking' Trinamool Congress. This particular section voted for the BJP in large numbers. Those votes are destined to make a huge difference.
What about the Congress? How many seats will it win? And what about the CPI-M (Communist Party of India-Marxist)?
I think the Congress will get five to six seats at the most. That is not a bad show at all, given the party fought it alone sans any alliance. As far as the CPI-M is concerned, it will get no less than 18 seats. If things go well, the number may go up to 22.
Which means your party will dash TMC's hope of winning 32 seats! Is (Mamata) Banerjee's popularity actually fading?
Of course! People are no fools. In the last three years, our honourable chief minister has brought in the reference of the erstwhile Left regime at least 1,000 times.
Why doesn't she understand the simple logic, people voted against us simply because they were unhappy with us. They voted her party to power, as they had wanted to see some change.
Now if Banerjee and her party failed to usher in that change, it's her responsibility. Her repeated attempts to pass the buck haven't gone down well with the people.
Moreover, corruption at every level of the state government also tarnished the TMC's image as a whole.
Has the Supreme Court verdict to let the Central Bureau of Investigation probe the Saradha scam affected people's views as well?
Oh yes! If Banerjee were so honest as she and her followers claimed, why did she keep resisting the CBI investigation?
There has to be some misdeed somewhere. We all look up to the CBI now for the truth.
And the truth, I am sure, will be shocking!
Do you think the CBI probe will find many prominent TMC leaders guilty?
Yes. Many prominent names will be behind the bars or so I think.
2016 isn't far away. Is your party contemplating a comeback in the next assembly election?
We are always optimistic. We must have made some mistakes in the past as a result of which people lost their faith in us. But we are trying our best to rectify ourselves.
A lot depends on this election's results.
If we find people have started reposing their trust in us, it will be a signal that we are walking the right way. As a political party, we are constantly changing ourselves, we are always evolving.

Image: BJP PM hopeful Narendra Modi and Trinamool Congress chief Mamata Banerjee