Six months after the lockdown was imposed, two dozen migrant workers were interviewed across five villages of Prayagraj. As the economy opens up, most of them are either hunting for a job or desperately waiting for a phone call from their previous employers.
But the bruises of the lockdown are still fresh in their minds.
Somesh Jha reports.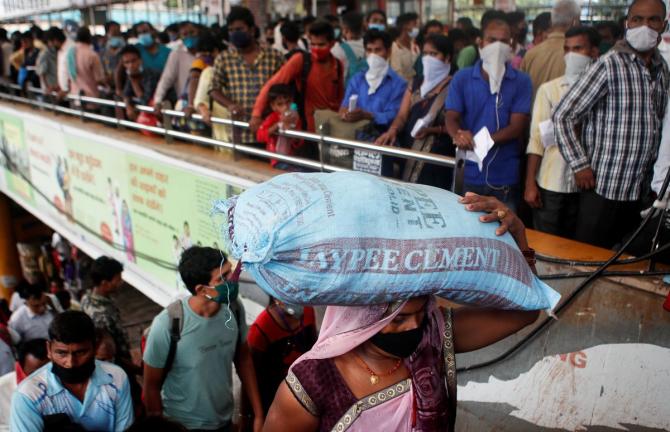 Ramesh Chand Srivastava was 15-years-old when his father's sudden death changed his life forever. Chand's brother-in-law took him from Pachdevra village in Prayagraj (earlier known as Allahabad) to Mumbai and gave him a job at his garment factory.
Srivastava, who is 46 now, had to return to his village from the 'city of dreams' for the first time in over three decades after the government enforced a national lockdown in March to curb the spread of the Covid-19 pandemic.
For Srivastava, Mumbai was home, and he makes it a point to mention that his Aadhaar card has Dharavi, Asia's biggest slum, as his residential address.
"During the lockdown, the city turned cold. There was so much stress -- due to job loss, police action, and the fear of the virus -- that I don't remember having a fulfilling meal even once," Srivastava says, sitting at the school where he was quarantined for 21 days before he could meet his family.
But didn't his brother-in-law bail him out? "That's the sad part. Despite being my guardian, he didn't pay my salary for two months. When I called him up to ask if I should return to Mumbai as the factory is now manufacturing PPE kits and masks, he told me to come at my own financial risk," says Srivastava, adding that he had to borrow Rs 5,000 last week to send his older son to Pune to work at a pharmaceutical company.
Srivastava was one among the 10-million migrant workers who officially returned to their domicile states after the national lockdown left them high and dry.
Government data shows that about one-third of the migrant workers who went back to their villages, belong to Uttar Pradesh. The Prayagraj district saw the highest reverse migration in the state -- 1,04,009, after Siddharth Nagar (1,61,796).
Six months after the lockdown was imposed, two dozen migrant workers were interviewed across five villages of Prayagraj. As the economy opens up, most of them are either hunting for a job or desperately waiting for a phone call from their previous employers.
But the bruises of the lockdown are still fresh in their minds.
Take 54-year-old Rajendar, who had to pedal his bicycle for two days to cover the 150 km distance from Rewa in Madhya Pradesh to Matiyara, a village on the outskirts of Prayagraj.
"I carried chickpeas to feed myself during the journey, stopped at roadside dhabas for sleepovers and navigated through police atrocities. I am scared to go back, but I have three children to feed," says Rajendar, who used to work as a porter at a mandi in Rewa.
In his desperation, Rajendar tried to turn entrepreneur and applied for a bank loan of Rs 50,000 under the Pradhan Mantri Mudra Yojana, so he could start a grocery store. But his request was turned down as the lender wasn't convinced about his proposal.
Around 40 workers who returned to Matiyara, have not been able to find a job. Nor have they been able to avail of any government scheme.
At the village pradhan's (head) office, a large poster promotes the Garib Kalyan Rojgar Yojana -- a four-month-long programme launched by Prime Minister Narendra Modi on June 20 for immediate job opportunities to returnee migrants.
"This (poster) is all that we know about the scheme. The pradhan has the details of the workers who want jobs, but we haven't heard back from the administration," says 32-year-old Ram Babu, who returned from Mumbai in May.
The government has front-loaded Rs 50,000 crore towards 25 schemes in 116 targeted districts across six states that saw the highest reverse migration. And it claims that it has spent around Rs 28,100 crore to generate 307-million man-days of work to date.
In Prayagraj, local job opportunities are few because, with a slowdown in consumption, small businesses have cut down on production. The Radiance Agro Industries, which produces pickles and tomato ketchup in Matiyara, has employed 11 workers, instead of the 18 that it had in the days before the lockdown.
Shardul Vikram Singh, the owner of the small business unit, says that the factory used to employ women from nearby villages on daily wage for 18 days in a month, but in August and September, it could provide daily wage jobs for only two days.
With no government support in sight, Ghanshyam Patel, 28, who used to earn Rs 15,000 a month in Surat, decided to borrow Rs 5,000 from his friends to set up a fruit stall near Chandpur village. "I will try my luck till Diwali. If nothing works, I will have to go back," he says.
None of the workers that this correspondent interviewed received wages during the national lockdown despite the government's directive to the contrary. Many, like Abhay from Tejopur village, who worked at a garment factory in Surat, returned leaving behind their belongings in cities where their landlord continues to charge them a monthly rent.
"Our rent wasn't waived during the lockdown months when our income dried up. I used to pay Rs 3,000 as rent out of my Rs 15,000-salary," says Abhay. He now plans to travel to Himachal Pradesh to work at an electrical equipment manufacturing plant, where he hopes to earn Rs 12,000 a month.
Mohammad Arif, 27, who lives in Banchandamau, a village bordering Prayagraj and Pratapgarh districts, recalls his two-day journey on a truck crammed with nearly 80 people who paid Rs 4,500 each, to go home.
"Only a dozen could sit in the cramped space at a time and the rest had to stand. I don't want to face that horror again. But I can't stay here either as I have a family of 10, with no other breadwinner," says Arif.
Most complain that the village administration has done little to help them secure a source of income.
Yet, returning to the cities in search of a livelihood is now an uphill task, owing to the high cost of travel. The Indian Railways hasn't fully resumed its train services, especially the general coaches, which is the cheapest mode of transportation for workers.
Mohammad Chand, who started working in the cities at the age of 18 about eight years ago, has been visiting labour chowks in Prayagraj city, where skilled and unskilled workers assemble to pick up work through contractors. But his efforts have been to no avail. Now Chand has stopped making his daily trips to the city.
"Six months ago, it was about saving one's life. Now it is about survival. Nothing feels like home," he says.