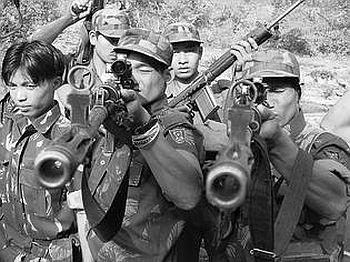 The self-styled chairman of militant Karbi National Liberation Army and two cadres of anti-talks faction of United Liberation Front of Assam-Independent were among six terrorists arrested by the security forces in Assam during the last 24 hours.
A defence source on Wednesday informed that acting on specific information a joint team of security forces apprehended Chingthong Singnar, the self-styled chairman of KNLA from village Moikro, Chowkihola on Teusday.
One 7.65 mm pistol, three 7.65 mm pistol magazines, one hand grenade, mobile phones and incriminatory documents including demand notes were recovered from the militant leader.
In another operation, two hardcore ULFA-I terrorists were apprehended from Hathibandhal village of Sonitpur
district by the troops of Indian Army and Assam Police yesterday. The area was cordoned by security forces and after detailed search, two ULFA-I cadres namely, Babul Das and Mohan Bora were apprehended. One AK-56, two hand grenades and some ammunition were recovered from the terrorists.
In another operation on Wednesday the army, police and COBRA launched a joint operation at Karigaon in Kokrajhar district and apprehended three Muslim Tigers Force of Assam terrorists.
The individuals were identified as Shahidul Hosen, Akash Ali and Nazirul Islam and were found in possession of two pistols and two MTFA identity cards.