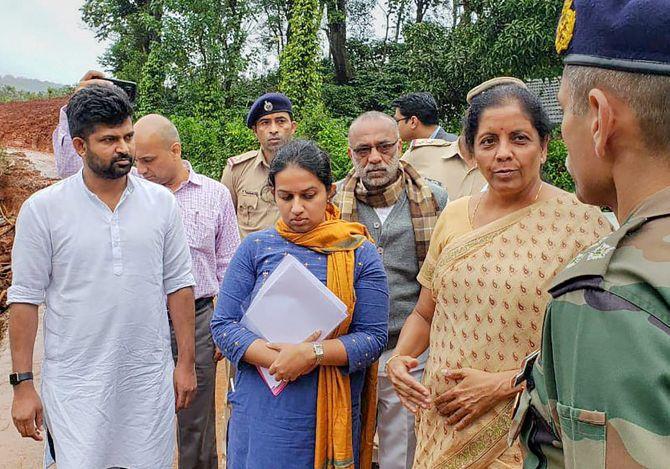 Defence Minister Nirmala Sitharaman on Friday visited flood-hit ares in Madikeri in Kodagu district of Karnataka and reviewed the situation with officials.
She also visited a flood relief camp in Madikeri and interacted with children, youth and their families sheltered there in the wake of recent torrential rains that lashed the district, bordering Kerala, claiming at least 17 lives and leaving a trail of destruction.
Sitharaman assured to take up with Prime Minister Narendra Modi and other central ministers concerned about the restoration work of roads, telecommunication network and other infrastructure, badly affected by the heavy rains that triggered landslides and floods in the district.
A Rajya Sabha member from Karnataka, she is the second Union minister to visit the flood-ravaged district, after D V Sadananada Gowda, who hails from the state.
More than 5,000 people have been rendered homeless in Kodagu district where rescue and relief operations are underway in full swing.
District in-charge Minister Sa Ra Mahesh and local MP Pratap Simha, officials of the district administration, government departments and Defence personnel attended the review meeting.
Officials informed that the district received excess rainfall of 150 per cent than the normal quantum.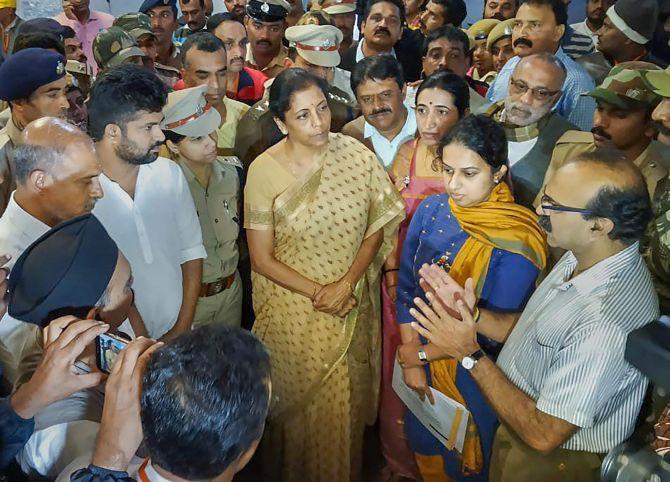 Talking to reporters, Sitharaman said the Centre's relief and rehabilitation package would be announced after assessment by a team of officials and the state's government estimate of losses.
She declined to make any guess on how much relief package was expected from the Centre.
"It would not be wise on my part to second guess what central can give and what the Centre cannot give...But once the team comes and makes an assessment into which all your (state) inputs will also be taken, and with your inputs, the central assessment team can come up with a figure," she added.
The minister later announced a Rs 1 crore aid from her MPs constituency development funds and Rs 7 crore from Corporate Social Responsibility funds of Defence PSUs for flood and landslide relief work, her office said in a tweet.
During her interaction with the displaced people in the relief camp, a child Navanish from village Hebbettigeri presented a pictorial representation of the flood fury.
In a painting, he depicted how the flood destroyed their house, trees in the surrounding and how he saw some people swept away in the flood on a fateful night.
Earlier, Sitharaman and Mahesh were locked in an exchange of words over her itinerary during the visit.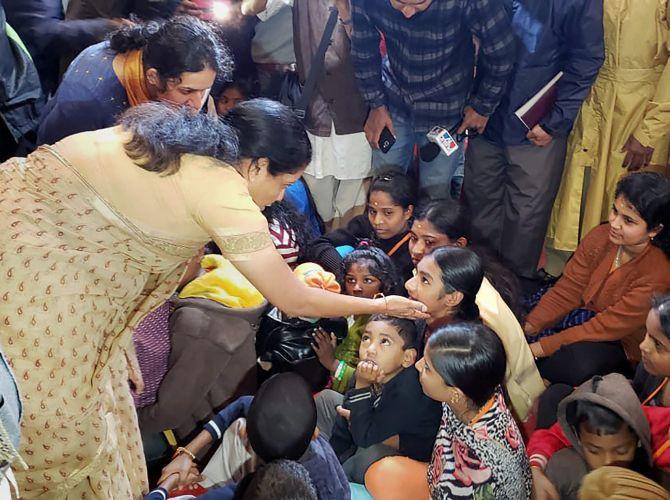 The entire episode took place in the presence of officials and the media at the district commissioner's office.
Sitharaman was interacting with a group of affected people when Mashesh, the district in-charge minister, told her that officials were waiting for her for a review meeting and they have to go for rehabilitation work.
He said she can first address the officials to which Sitharaman too agreed.
However, Sitharaman noted that she was only going by the minute-by-minute programme drawn up for her visit and she had been following the minister in-charge and the itinerary.
"I follow the minister in charge. Central minister follows the minister in charge here. Unbelievable! You have a list of minute-to-minute for me to follow...I am doing as per your schedule," she said.
Sitharaman then sought to know how many of the officials were from the field taking care of the rehabilitation work and said she did not want the work to be upset.
Later, Mahesh dubbed Sitharaman's comments as a reaction to the demand for funds from the Centre to Kodagu.
"She would have known the pain had she contested election by standing with the electorate, going to every house, meeting voters and asked their problems. She has been elected to Rajya Sabha from Karnataka," he told a TV channel.
The district in-charge minister said the state had requested her that the Centre should extend relief for Kodagu just like it did for Kerala.
Photographs: PTI Photo