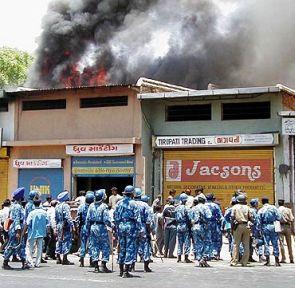 The lawyer of Zakia Jafri on Thursday alleged before the magistrate's court here that Special Investigation Team probing the 2002 Gujarat riots cases "ignored and manipulated" conclusions of National Human Rights Commission and Chief Election Commissioner.
"SIT has wilfully ignored and manipulated conclusions of National Human Rights Commission and Chief Election Commissioner on the attitude of the state machinery and ground realities during and after 2002 riots, to shield the real culprits," said Advocate Aparna Bhatt.
She was arguing before Metropolitan Magistrate B J Ganatra, on behalf of Zakia Jafri. Jafri, on whose complaint alleging complicity of Gujarat Chief Minister Narendra Modi and others in facilitating the riots the Supreme Court set up the SIT, has now challenged the SIT's report giving clean chit to Modi and 57 others before the magistrate.
Bhatt said that NHRC had severely reprimanded the state government for failing to protect the religious places of minority community, and strongly recommended that government repair such structures, or reimburse repair expenses.
"Despite specific recommendations from a quasi-judicial and premier body like NHRC, Gujarat government has not taken any action for many years, and (only) after Gujarat high court strongly passed the strictures, government placed the report before the state Assembly," she said.
"SIT has not even bothered to acknowledge the NHRC report which could corroborate our allegations that 2002 riots were not a general reaction to the Godhra train burning incident but was a well-planned conspiracy," Bhatt argued.
Jafri, whose husband and former Congress MP Ehsar Jafri was killed during the riots, has demanded that SIT report be rejected, and Modi and others face trial.
Pointing out a CEC order of August 16, 2002, advocate Bhatt said that while rejecting Gujarat government's proposal of early elections (after the February-March riots) CEC had noted that 154 out of the 182 Assembly constituencies were affected by riots, and atmosphere of fear and anxiety prevailed in the state.
Several culprits of violence were moving around free, there was a general lack of confidence in the state security forces, large number of IPS officers who did a commendable job to prevent riots had been replaced and a large number of people from the minority community were yet to return to their homes from relief camps, the CEC report said, according to Jafri's lawyer.
Advocate Bhatt also alleged that except R B Sreekumar, then Additional Director General of Police, every high-ranking officer who made representation before Chief Election Commissioner J M Lyngdoh submitted "scanty, defective, misleading and ambiguous" inputs on law and order situation.
"Unfortunately SIT has decided to make contrary interpretation of the views, observations and conclusions of EC, a constitutional body, and manipulated it by concluding that as Assembly elections were held without any incident in December 2002, allegations made by us were not established," she said.
The arguments would continue on Friday.