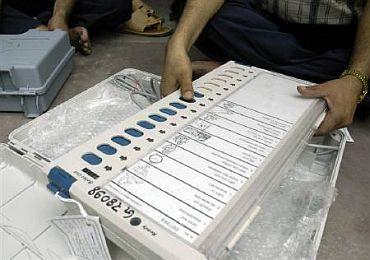 The holding of simultaneous Lok Sabha and assembly elections may not be possible before 2024, and a Constitutional amendment is required to conduct such a synchronised exercise, former poll panel chief T S Krishnamurthy said.
Ideally, it is good to have simultaneous elections, once every five years, former Chief Election Commissioner Krishnamurthy said, when asked to share his view on the issue, repeatedly advocated by Prime Minister Narendra Modi.
"Is it possible? Unless the Constitution is amended, may not be possible," he said.
"We follow the Westminster system of vote of confidence. If we follow the American system where there is a fixed executive, then there will be a fixed term...even if somebody is voted out, someone else has to be elected by the House. Until that time, the former government will continue to operate," he noted.
The "other alternative" to the simultaneous elections is bunching of all polls due in a year as recommended by the standing committee of Parliament, but this also needs a study and Constitutional amendment for implementation, he said.
From the administrative perspective and for saving money, it might be convenient to hold simultaneous elections, the former CEC said.
"More than that, all this vengeful politics, vicious propaganda, campaign and personal attacks will reduce as they (elections) will not be throughout the year," he said.
Krishnamurthy said that holding simultaneous elections is just not possible in 2019 as the five-year term of governments in some states has just commenced last year, and that polls are due in some other states this year.
"May be 2024, they can plan for that," he said.
On the prime minister batting for having a single electoral roll for Lok Sabha, assembly and local body polls, Krishnamurthy said it has always been the Election Commission's view also.
"That requires an amendment to the state election law. One electoral roll is desirable," he added.