Serious lack of funds to carry out its operation has forced the Students Islamic Movement of India and the Indian Mujahideen to adopt a method that was earlier forbidden. Vicky Nanjappa/Rediff.com reports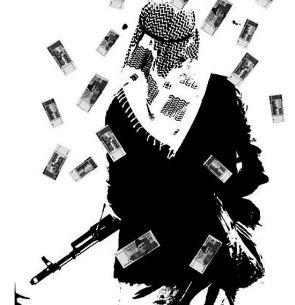 The Students Islamic Movement of India and the Indian Mujahideen have now taken to robberies to fund their terror activities.
These outfits, which relied heavily on charity and donors sympathetic to their cause, found their funds drying up after increased scrutiny from security agencies. Even Pakistan's Inter-Services Intelligence has instructed the homegrown Indian outfit to fend for itself and only seek help if they needed their operatives to flee the country.
These revelations were made by Haider Ali alias Black Beauty, the man who is alleged to have masterminded the 2013 Patna blasts in which Prime Minister Narendra Modi was the target.
Outfits like SIMI and IM were once particular about not using money acquired through maal-e-ghaneemat (loot), but serious lack of funds to carry out its operations have forced them to rob.
The National Investigation Agency has found that SIMI members were involved in a spate of robberies through which they raised nearly Rs 1.25 crore. The biggest operation was carried out in Khandwa where they looted a van carrying money that belonged to a finance agency. The SIMI is said to have made Rs 1 crore out of just this one incident.
During interrogation Haider Ali said that Abu Faisal, an operative who carried out these robberies, gave him Rs 7 lakh to execute the Patna blasts. Some of this money was also used for the Bodhgaya attack. The rest of the money was put away for future operations.
A plan to get SIMI leader Safdar Nagori out of Gujarat jail was planned at a cost of Rs 30 lakh. The terrorists planned to engage security agencies in a gun fight before blowing up a wall and securing the release of Safdar Nagori.
Ali told the NIA that the outfit plans to carry out more robberies and a good part of it would be used to procure arms and ammunitions. Surplus money from the Patna blasts was also used to purchase ammunition. It was based on this input that the NIA managed to seize 16 live bombs from Ranchi on Saturday.
The SIMI has adopted a strategy the Indian Mujahideen used a few years ago.
Following arrests of its top leaders a few years ago the IM took to extortion and robbery to collect funds. Security agencies did not take these activities too seriously at that time which gave the IM ample time and money to regroup.