An innocent Canadian Sikh journalist was wrongly accused of being involved in the Paris attacks after his photo-shopped image went viral on social media and a Spanish newspaper printed the snap identifying him as a terrorist.
The Madrid-based La Razon included a picture of Canadian freelance journalist Veerender Jubbal, with the caption "one of the terrorists".
However, the picture had been doctored to add what appeared to be a Quran and a suicide vest.
"One of the terrorists may have entered Greece along with Syrian refugees. The unidentified attackers were between 15 and 18 years and acted in three teams," the text by the image of Jubbal read. The paper apologised on Sunday afternoon.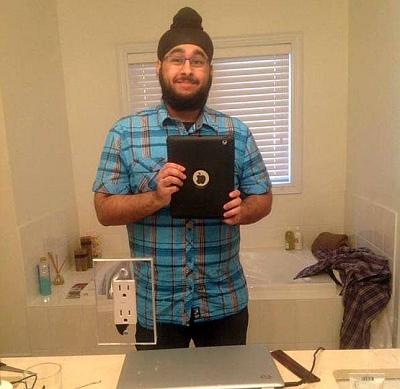 In the original photo, Jubbal appears to be holding an iPad. But, in the edited picture, the iPad has been turned into what appears to be a Quran and a suicide vest has been added.
When the edited image began to spread, Jubbal posted the original as evidence that he had had nothing to do with Friday night's murderous attacks in Paris that killed 129 people and injured more than 350 others.
"I hope everyone has caught up with what is going on with me. I went viral due to a photo-shopped image claiming I am a terrorist," Jubbal tweeted.
"People are editing, and photo-shopping my selfies as if I am one of the people causing the issues/problems in Paris," he said.
"Never been to Paris. Am a Sikh dude with a turban. Lives in Canada," he added.
It is unclear who edited the image and why, though some have suggested that Jubbal's criticism of the Gamergate movement was the motivation for the smear, The Guardian reported.
Many of its adherents say Gamergate, which started in earnest as a reaction to claims made about the private lives of a female games developer and a male journalist, as a fight for more ethical coverage of video gaming. But many of its opponents say it is a misogynistic harassment campaign.
The long-running debate has been marked by accusations of abuse from both sides.
"Gamers are absolute garbage like I have been saying for a full year," Jubbal said.
"People will not stop harassing, and bothering me. Learn the difference between me being a Sikh, and a Muslim. Cry in mug, while I use your tears to water my garden. I am valuable, and rad," Jubbal said.
He has threatened to sue media outlets.