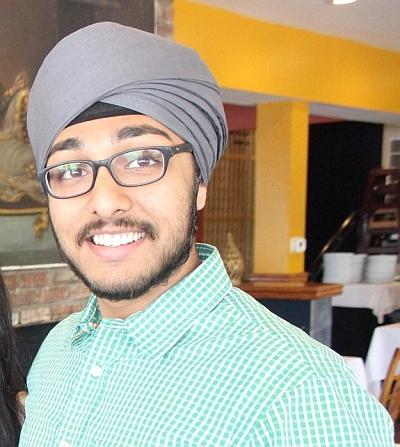 A 20-year-old Sikh-American student has won a significant legal battle in the United States with a court allowing him to enrol in an army programme without removing his articles of faith like the beard and turban.
US District Court Judge Amy Berman Jackson on Friday ruled in favour of Iknoor Singh, a student at Long Island- based Hofstra University, to enrol in US Army Reserve Officers' Training Corps (ROTC) programme without shaving his beard, cutting his hair or removing his turban.
Singh, born and raised in the Queens in New York, had previously been denied the right to enrol in his college's ROTC programme on account of his religious articles of faith.
Singh had alleged that the army's refusal to accommodate his religious exercise violates the Religious Freedom Restoration Act and had brought a lawsuit against the Secretary of the US Army John McHugh and Commander of the ROTC programme at Hofstra University Lieutenant Colonel Daniel Cederman, along with other senior military officials.
In the 49-page ruling issued in Washington, US District Court Judge Amy Jackson said, "Given the tens of thousands of exceptions the Army has already made to its grooming and uniform policies, its successful accommodation of observant Sikhs in the past, and the fact that, at this time, plaintiff is seeking only to enrol in the ROTC programme, the Army's refusal to permit him to do so while adhering to his faith cannot survive the strict scrutiny that RFRA demands."
The ruling further established that the Army's denial of Singh violated his rights under RFRA, which became a law in 1993 to protect religious practices and expression.
Singh now has the right to enrol in the Army ROTC programme without shaving his beard, cutting his hair, or removing his turban.
"I'm very grateful that the freedom of religion our country fought so hard for will allow me to pursue my dream career -- serving this country as a military intelligence officer -- without violating my faith," Singh was quoted as saying in a statement by rights groups United Sikhs.
United Sikhs and the American Civil Liberties Union, the ACLU of the national capital, brought the lawsuit in November 2014. Singh had first approached United Sikhs in the summer of 2013, seeking its legal assistance.
Singh speaks four languages (English, Punjabi, Hindi, and Urdu) and hopes to one day become a military intelligence officer. He will pursue finance and business analytics, United Sikhs said.