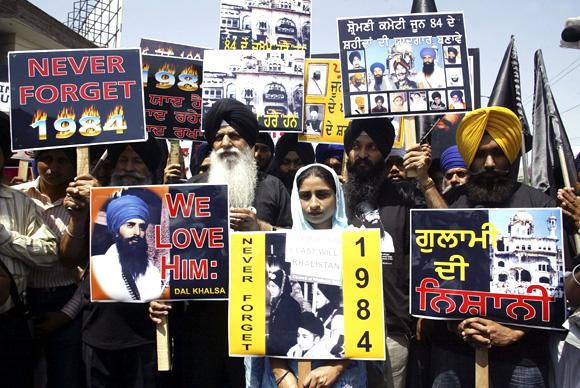 A Delhi court on Tuesday fixed April 30 for pronouncing its judgement in a 1984 anti-Sikh riots case in which Congress leader Sajjan Kumar and five others are accused.
District Judge J R Aryan said he required no clarification from the counsel for the Central Bureau of Investigation and the accused. "Come on April 30 for judgement," the judge said right after taking his seat in the court room. The court had earlier fixed the matter to today for any clarification that it might require in the case.
Kumar is facing trial along with five others – Balwan Khokkar, Kishan Khokkar, Mahender Yadav, Girdhari Lal and Captain Bhagmal -- for allegedly conspiring and inciting a mob against the Sikh community in Delhi Cantonment area in New Delhi.
The case relates to anti-Sikh riots that had broken out after the assassination of the then Prime Minister Indira Gandhi on October 31, 1984. The case against Kumar was registered in 2005 on a recommendation by Justice G T Nanavati Commission.
The CBI had filed two charge sheets against him and the other accused in January 2010. The trial court had framed charges against Kumar and the five others under Sections 302 (murder), 395 (dacoity), 427 (mischief to cause damage to property), 153-A (promoting enmity between different communities), 120B (criminal conspiracy) and other provisions of the Indian Penal Code.
The minimum punishment under Section 302 IPC is life imprisonment and the maximum in death penalty.
The Delhi police had earlier probed the riots case and the investigation was handed over to CBI in 2005. The CBI had told the court there was a conspiracy of "terrifying proportion" between Kumar and the police during the riots.
The agency had said the police had kept its "eyes closed" to the widespread violence. While concluding its final arguments, the CBI had said that it has limited itself to what each of the witnesses had seen at the time of the incident.
The witnesses had given honest versions of what they all had seen during the riots, the CBI had said, alleging that in all the complaints wherever Kumar's name had cropped up, it was "immediately eliminated" from the police records.
Defense counsel Anil Kumar Sharma had told the court that there were material contradictions in statements of the witnesses, including complainant Jagdish Kaur.
He had said that Kaur had not taken Kumar's name anywhere in any of her affidavits filed before various judicial commissions, constituted to probe the riots-related cases, till 2010.
Sharma had also said the prosecution witnesses had given two different versions of the same incident, which could not be accepted. During the arguments, senior advocate H S Phoolka, who represented the riots victim in the case, had said that the crime was committed in broad daylight and the victims had been waiting for justice for nearly 29 years.
Complainant Kaur had lost her husband, a young son and three brothers during the 1984 riots.