Situation in Jammu was "tense" on Friday as Sikh youth defied prohibitory orders and held protests in various areas as part of a three-day old agitation which is spreading and saw one more policeman being stabbed and his AK rifle taken away.
Protests were also held in Kashmir besides Poonch, Rajouri and other parts of Jammu region over the death of a youth in clashes that erupted in Jammu on Thursday after hundreds of Sikhs blocked road and pelted stones at cops over removal of posters of Khalistani militant leader Jarnail Singh Bhindranwale.
Defying prohibitory orders, Sikh youth took to streets for the third day as protests spread over various areas in Jammu, Kathua, Poonch and Rajouri districts.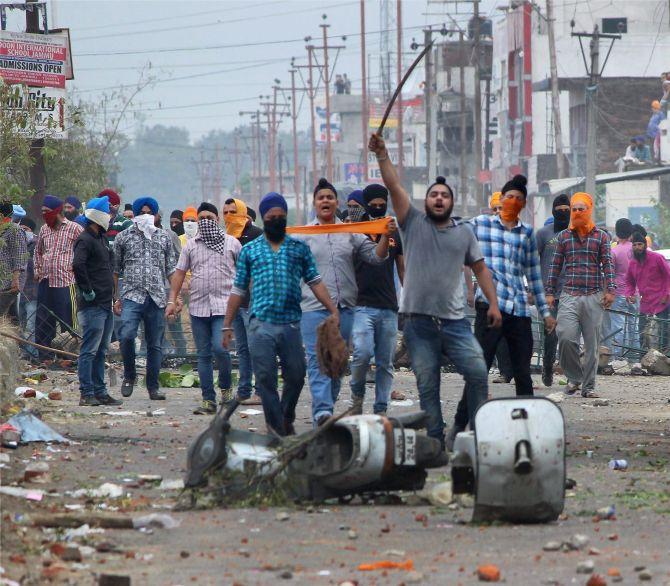 Angry Sikh protesters during a clash with police after they removed a poster of Jarnail Singh Bhindranwale at Rani Ragh near the airport in Jammu. Photograph: PTI Photo
In Jammu, protests were held in various areas like Digiana, Gangyal, Canal, Tallab Tilloo, Rehari, Bakshinagar, Narwal and Gole Gujral areas. Groups of protestors blocked the Jammu-Pathakote highway and burnt tyres.
Streets of Jammu wore a deserted look and business establishments remained closed. Mobile and internet services were also suspended in Jammu. Schools and colleges in several districts of the region were closed.
Police and paramilitary forces have been deployed in strength in sensitive areas of Jammu city where the situation is described by authorities as "tense but under control".
The army late on Thursday night staged a flag march in parts of Jammu following violent clashes.
Authorities had clamped Section 144 of CrPC, which bars gathering of more than four persons at a place, in the entire Jammu district and curfew like situation prevailed in violence-hit areas of Satwari-Ranibagh-Gadigarh-R S Pura belt and elsewhere.
Meanwhile, some miscreants among the protestors stabbed a policeman and fled with his AK rifle in Gangyal area of Jammu city late on Thursday night, sub divisional police officer, Jammu East Mohmmad Rafiq said.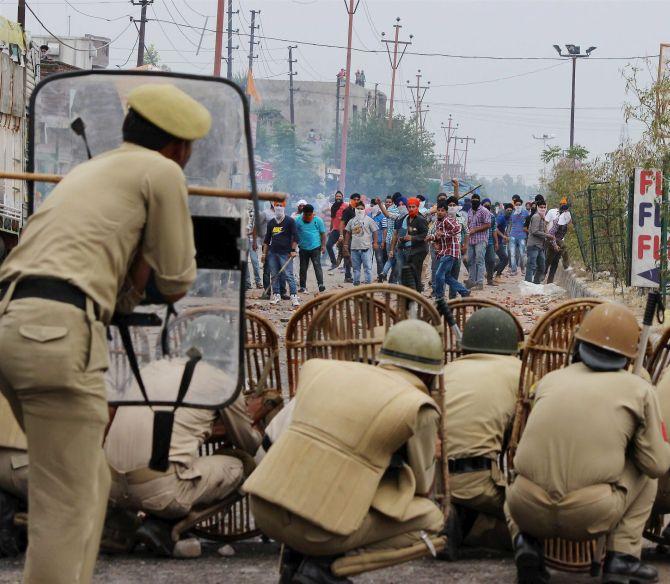 Sikh protesters pelt stones at police officials. Photograph: PTI
The constable Joginder Pal, who is the personal security officer of the deputy superintendent of police (Jammu East) Mohammad Rafiq, was shifted to the GMC hospital, where his condition has improved, the police officer said. "We have recovered the AK-rifle from some people this afternoon and a case has been registered. The arrest will also take place," SDPO said.
This was the second such incident as earlier on Wednesday, a Sikh protester carrying sharp edged weapon stabbed Sub Inspector Arun Kumar. His condition is now stated to stable in GMC hospital.

A bandh was observed in the Poonch border town of Jammu region, where leaders belonging to all religions sat on protest dharna and called for the maintaining clam amid condemning the death of youth in the police firing. Protests and dharnas were also held in Rajouri town, Rajbhagh, Hatli Morh and Lakhipur on Jammu-Pathnakote in Kathua district and Udhampur, reports said, adding that traffic was disrupted on highway for two to three hours.
Members of the community held protests at various places in Kashmir also over the killing of the youth, alleging "high handedness" police and raising slogans against the government.
Protests were held at Press Colony and Amira Kadal near Lal Chowk in Srinagar, officials said. Similar protests were held in Baramulla in north Kashmir and Awantipora in south, police said, adding the protestors temporarily blocked the Srinagar-Jammu highway at Awantipora.
Union Minister Jitendra Singh, who hails from Jammu, on Friday briefed Home Minister Rajnath Singh about the situation.
Singh, the minister of state in the Prime Minister's Office, said the home minister has offered all possible support to the Jammu and Kashmir government for dealing with the situation.
Rajnath has spoken to Chief Minister Mufti Mohammad Sayeed and offered him sufficient number of armed forces personnel in case the need arises, Jitendra Singh said, adding, "I hope the situation will be brought under control very soon."
Shiromani Gurdwara Prabandhak Committee has, in a letter to the state government, condemned police action regarding removal of the hoarding carrying the photograph of Jarnail Singh Bhindrawale and accused police of mishandling the situation and allowing it to go out of control. It has demanded suspension of SSP Jammu, Uttam Chand and SHO Satwari Kulvir Singh.
A youth, Jagjit Singh, was killed on Thursday and seven others including policemen were injured in clashes between police and a large group of sikhs who blocked roads. The condition of the three policemen has been described as critical by doctors, police said.