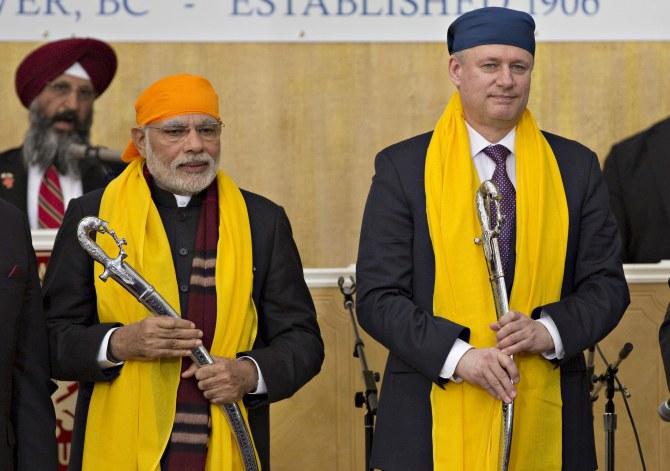 Canada's Prime Minister Stephen Harper and Prime Minister Narendra Modi walk together during a visit to the Gurdwara Khalsa Diwan in Vancouver, British Columbia. Photograph: Andy Clark/Reuters
With Prime Minister Narendra Modi visiting the Khalsa Diwan Gurdwara in the city on Thursday, Vancouver's Sikh community hailed the occasion as 'historic', adding that the association would welcome him 'open-heartedly'.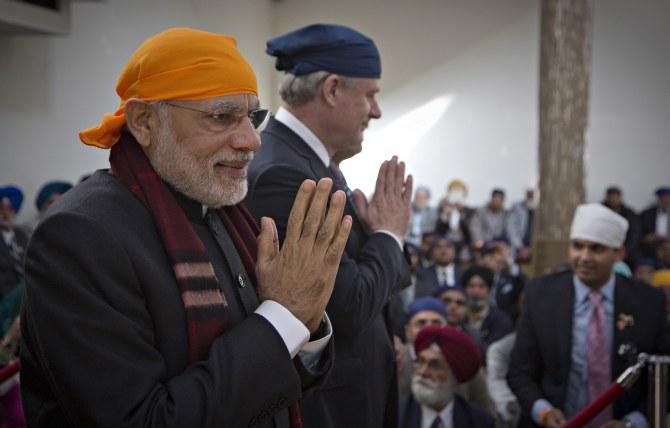 Harper and Modi hold swords presented to them during a visit to the Gurdwara Khalsa Diwan in Vancouver, British, Columbia.Photograph: Andy Clark/Reuters
"This is a very significant visit. Prime Minister Modi is the third Indian prime minister to come here, after Jawaharlal Nehru in 1949 and Indira Gandhi in 1973. It is a big occasion for Khalsa Diwan Society and the community," Khalsa Diwan Society president Sohan Singh Deo told ANI.
"The Sikh community, the Hindu community and all the Indian communities are very happy, and they are going to welcome him open heartedly. It is a historic day for the community," he added.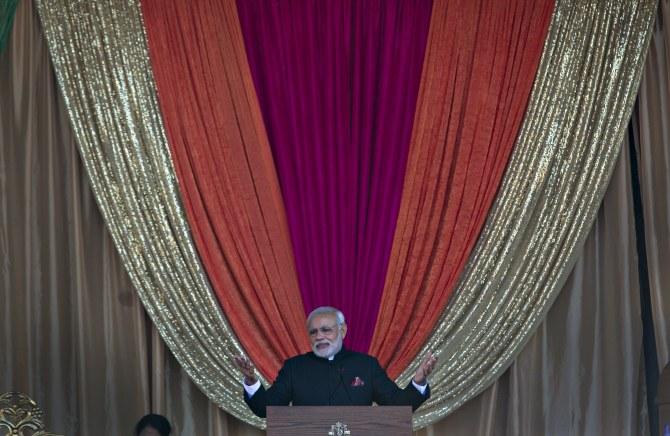 Modi

addresses supporters while visiting the Laxmi Narayan Temple in Surrey, British Columbia.Photograph: Andy Clark/Reuters
Modi arrived in Vancouver earlier in the day, where he visited the Gurdwara Khalsa Diwan at Ross Street, before visiting the Laxmi Narayan temple in the city.
He will later attend an official dinner hosted by his Canadian counterpart Stephen Harper, before departing for India.
Earlier in the day, Prime Minister Modi held a round table conference with heads of pension funds, banks and other financial leaders of Canada.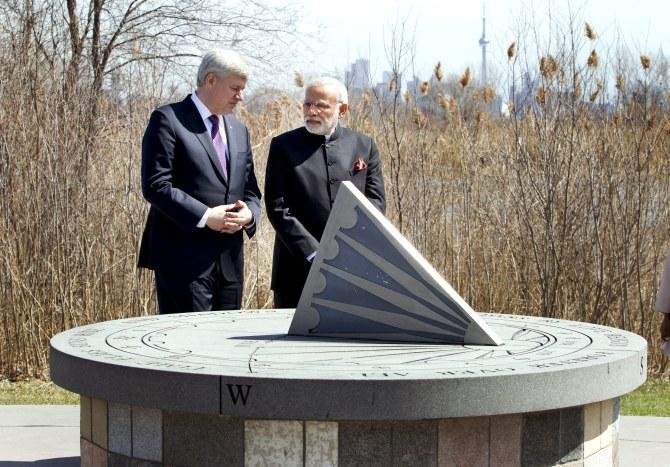 Modi and Harper pause after laying wreaths at a memorial in TorontoThe memorial is dedicated to victims of the attack in 1985 of an Air India 747 jet. Photograph: Fred Thornhill/Reuters
The prime minister also visited the memorial to the Air India 'Kanishka' bombing in Toronto, paying tributes to the victims in a wreath laying ceremony. Modi, along with Prime Minister Harper also met the kin of the victims.
Modi arrived in Ottawa on Tuesday, for the third and final leg of his three-nation, nine-day tour.