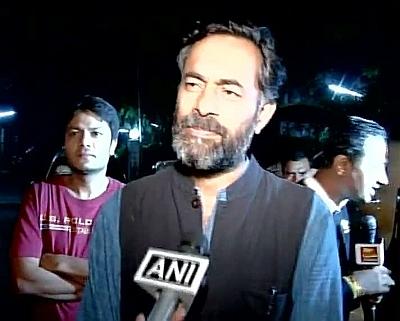 In a sign of reconciliation between warring factions of the Aam Aadmi Party, senior leaders from the Arvind Kejriwal camp met Yogendra Yadav late Monday night and held discussions over several contentious issues, hours after the Delhi Chief Minister's return from Bengaluru.
Both the camps have termed the discussions as "positive".
Party sources said AAP leaders Sanjay Singh and Kumar Vishwas, Ashutosh and Ashish Khetan met Yadav late Monday night and the discussions continued until 3 am.
The discussions took place at a time when Yadav and Prashant Bhushan had sought time from Kejriwal for a meeting to put an end to the ongoing controversy. A message was sent to Kejriwal on Monday morning on behalf of both the leaders.
Since Kejriwal did not respond to the SMS till late night, the AAP leaders decided to meet Yadav.
"We were bothered with what was happening in the party for the past few days. We started talks with Yogendra (Yadav) bhai. The start was good," Sanjay Singh tweeted.
Sources close to Yadav too echoed similar sentiments.
"There is peace after a three-hour sleep. There is peace now. We will be successful," party leader Kumar Vishwas tweeted this morning.
Over the past few weeks, AAP had been embroiled in internal turmoil with leaders from both the camps making accusations and levelling allegations against each other.
The Kejriwal camp had alleged that Bhushan and Yadav wanted the party to lose the Delhi Assembly elections and were attempting to remove the Delhi Chief Minister from the post of AAP National Convener. The duo were dropped from the all-power Political Affairs Committee of the party at a meeting earlier this month.
Kejriwal flew back to Delhi on Monday night after 12 days of naturopathy treatment in Bengaluru for chronic cough and diabetes.