Here's what you must know about the latest buzz on WhatsApp's privacy policy, says Ashish Narsale/Rediff.com.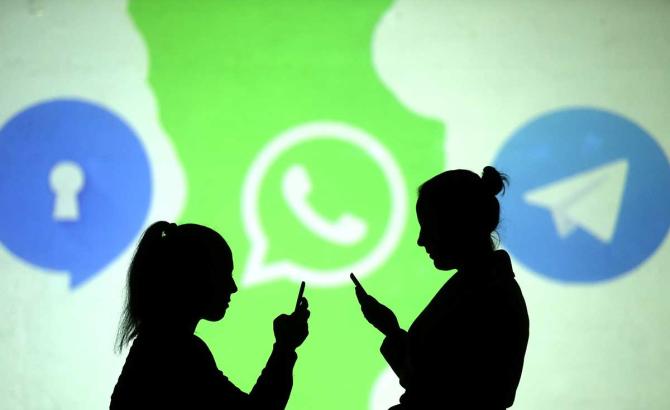 WhatsApp has almost replaced the SMS (Short Messaging Service) due to its quick sharing of text messages with multimedia connected to the phone number.
But it has been under scanner thanks to its privacy policy update of last week, which said among other things that payment and business information of users may be shared with its parent company, Facebook.
Should that worry you? Here's what you must know about the latest buzz on WhatsApp's privacy policy.
What is WhatsApp's new privacy policy update about?
First off, WhatsApp retains its earlier end-to-end encryption policy and other security features.
So whatever we share on WhatsApp as messages, photos, and account information will continue to be end-to-end encrypted.
End-to-end encryption ensures your messages are not read by WhatsApp or/and any third party.
This data will also not be shared with Facebook or any other family of apps.
The messages once delivered to the recipient are deleted from the servers.
When the message is not delivered immediately, and if the receiver is unreachable, the message remains on WhatsApp's servers for 30 days and will get deleted after 30 days when undelivered.
WhatsApp also provides a security code to confirm the chat is end-to-end encrypted.
WhatsApp being a free service still, there is no way for third party banner ads to intrude into your communication.
For business communication, notifications will be issued for orders, transactions, appointment information, delivery and shipping information.
For the same, users can manage the information shared via settings.

So what information is collected by WhatsApp?
The mobile phone number collected for personal chat is used for the creation of account.
Other information as profile name, profile picture, and status message are also collected by WhatsApp.
The users with whom we communicate may store or re-share your information (including your phone number or messages) with others.
Certain information, like last seen, read receipt, can be blocked to the user with whom we chat, via settings.
Sharing information with Facebook and other third party services like banks and other vendors is limited to when you use business services like WhatsApp Pay or WhatsApp Business.
For the payment service, the card and bank numbers are stored, encrypted and are secure on WhatsApp's network but while sharing the information with banks, the data is decrypted in order to be processed.
The payment detail and the user information are further shared with Facebook and related third party vendors, as it becomes necessary for financial transactions to be carried out.
If you don't want to use WhatsApp Pay, you may opt for other E-wallets or UPI services like Paytm or Google Pay.
It's the users' choice to opt for business services or not, and there is no compulsion to use WhatsApp Pay or WhatsApp Business features.
WhatsApp assures that it will continue to provide end-to-end encryption for personal chats when used as a chat application. However, the data is secure only when stored with WhatsApp; backups on the cloud removes e2e protection.
What is the latest privacy concern about?
Users are concerned over WhatsApp's 'take-it-or-leave-it' attitude with the latest policy update.
Since the policy was released a week ago, there is unease among WhatsApp users if it has relaxed its strict data privacy rules.
But going through the updated privacy policy and tweets from WhatsApp's privacy head, Will Cathcart, it looks like there might be a breather for users.
Cathcart said the company updated its policy to 'be transparent and to better describe optional people-to-business features'.
'It's important for us to be clear, this update describes business communication and does not change WhatsApp's data-sharing practices with Facebook. It does not impact how people communicate privately with friends or family wherever they are in the world, Cathcart clarified.
Cathcart emphasised that with end-to-end encryption (E2E), WhatsApp cannot see private chats or calls, and neither can Facebook, and that the company remains committed to E2E.
'We're in competition on privacy with others and that's very good for the world. People should have choices in how they communicate and feel confident that no one else can see their chats,' he said.
'There are people who disagree with this, including some governments,' he added.
Is anyone in India concerned?
Users well-versed in privacy laws or those concerned with their data would be worried; it could well be that many of us have already accepted the end user agreement without ado.
At the same time, we shouldn't follow the herd blindly; some education and precise information are required.
For instance, for European countries, WhatsApp has different policies as they are protected by Personal Data Protection (PDP) law.
In India a PDP law was proposed in 2017 and it is likely that the bill will be passed by early 2021.
Can WhatsApp be knocked out by other apps?
Signal, iMessage (for Apple) and Telegram are alternatives, as they have strict user data protection policies.
There are reports that Elon Musk of Tesla has also shifted to Signal.
Clearly, WhatsApp has a tough perception battle ahead.