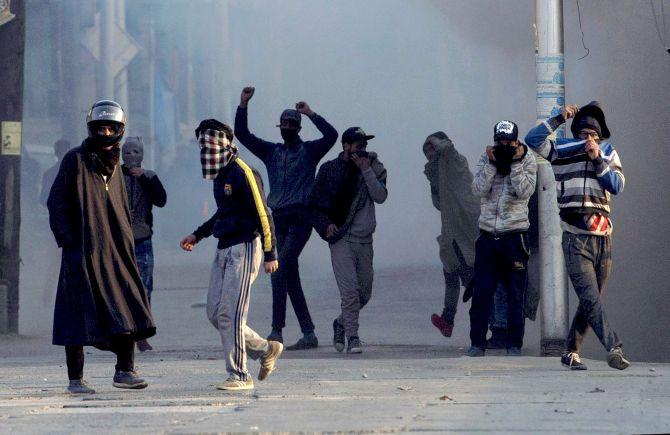 Northern Army Commander Lieutenant General Devraj Anbu on Wednesday said that the army opened fire into a crowd in Shopian in the face of the 'ultimate provocation' by a stone-pelting crowd.
The Army on Wednesday also filed a counter first information report in response to the one lodged by the Jammu and Kashmir police over the killing of two civilians in Shopian district.
The Army has submitted its version of the incident to the Jammu and Kashmir Police and explained its reasons for opening fire at the stone pelting mob, officials said on Wednesday.
Calling the FIR against the army as 'unfortunate', Lt Gen Anbu said that there should have been generic FIR in the matter.
"That is an unfortunate thing. In such a case a generic FIR should have been filed. I think they have prematurely put the name of an individual, I am sure when they investigate truth will come out. Notwithstanding what the state government did, we had our own inquiry and are clear that we responded when we were provoked to the ultimate," he added.
According to the Army's narrative, submitted on Tuesday, the force's convoy was attacked by a group of stone-pelters and its personnel resorted to firing to save themselves, the officials said.
It has claimed it opened firing in self defence after seven of its personnel were injured.
The Army has also submitted photographs of the vehicles damaged in the stone pelting.
The FIR filed by the state police names no accused but states that a company of 10 Garhwal led by Major Aditya was on its way for official duty when it was attacked by an unruly mob with stones.
Police has filed an FIR under sections 336 (endangering life or personal safety of others), 302 (murder) and 307 (attempt to murder) of the Ranbir Penal Code, which is similar to the Indian Penal Code but applicable only in Jammu and Kashmir.
On January 27, two youths were killed when army personnel fired at a stone-pelting mob in the Ganovpora area of Shopian, prompting Chief minister Mehbooba Mufti to order an inquiry into the incident.
A third succumbed to his injuries on Wednesday.
Police had on Sunday filed an FIR under sections 302 (murder) and 307 (attempt to murder) of the Ranbir Penal Code against the personnel of 10, Garhwal unit, of the Army. A Major, who led the army personnel at the time of the incident, was also named in the FIR.
The divisional administration ordered a magisterial probe into the incident.
The incident became a bone of contention between the state's ruling alliance partners People's Democratic Party and Bharatiya Janata Party.
A BJP legislator demanded on the floor of the House that the FIR be cancelled.
This was, however, turned down by Chief Minister Mehbooba Mufti, who said the FIR will be taken to its logical conclusion.
With PTI inputs.
IMAGE: Protesters throw stones on security forces amid tear smoke during a protest against the alleged killing of two youth in Army firing in Shopian district of South Kashmir, in Srinagar on Sunday. Photograph: S Irfan/PTI Photo