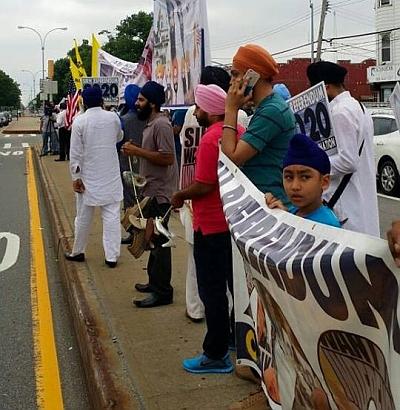 A senior cabinet minister in the Punjab government and his delegation came under attack in New York as hundreds of Sikhs protesting his visit allegedly threw stones and hurled a shoe at the leaders, following which the police took two youths into custody.
Tota Singh, minister for Non-Resident Indian Affairs in the Punjab government, and other Akali leaders were scheduled to address a meeting at Richmond Hill in the Queens borough on Saturday.
However, hundreds of Sikhs protesting the visit and chanting slogans converged at the venue and allegedly surrounded the area, according to information provided by the rights group Sikhs for Justice.
The standoff between the Sikhs and Singh's delegation continued for more than three hours and a heavy contingent of New York Police was summoned at the scene.
Two Sikh youths were taken in custody by the New York police for attacking the Shiromani Akali Dal leader.
New York Police said the two persons were arrested for obstructing governmental administration, unlawful assembly and disorderly conduct.
SFJ said the protesters pelted stones and hurled a shoe at Singh and other Akali leaders as they were whisked away from the venue amidst heavy police protection.
"The North American Sikh groups are opposing SAD (Badal) for their failure to convict Indian police officers who were involved in extra-judicial killings of thousands of innocent Sikhs during counter insurgency operations in early 1990s," SFJ legal advisor Gurpatwant Singh Pannun said in a statement to PTI.
Singh is leading a delegation to the US and Canada to garner support of the Punjabi Diaspora for the 2017 assembly elections in Punjab.
"We will not allow SAD (Badal) leaders to visit America and challenge those Sikhs who oppose Akali policies and have taken political asylum for their political views," organisers of the protest rally Himmat Singh said.
Among the groups protesting against the SAD (Badal) delegation's visit to the US includes SFJ, Sikh Youth of America, Shiromani Akali Dal (Amritsar) and American Gurdwara Prabandhak Committee.