According to a report by Save the Children, 15 million girls are married before the age of 18.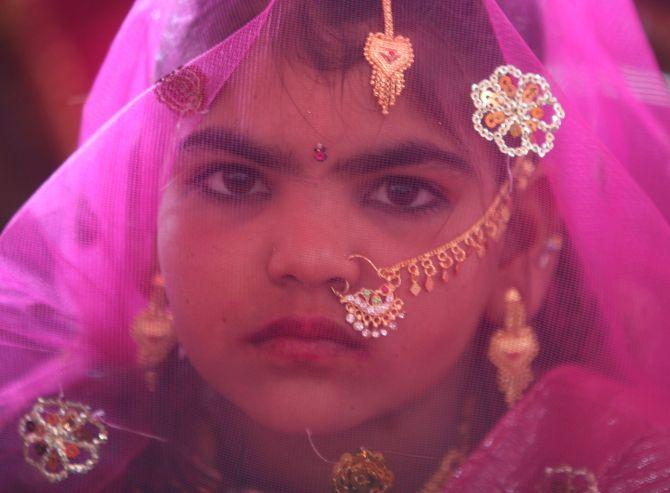 Around the world, every seven seconds, a girl under 15 is married.
Read that again. The figure might startle you, but it's true.
According to a report by Save the Children released on Tuesday, which coincidentally was International Day of the Girl, each year, 15 million girls are married before the age of 18.
The report stated that in developing countries, one in three girls are married before the age of 18 and one in nine before the age of 15.
Girls affected by conflict, poverty and humanitarian crises are particularly at risk of being married off, the report found.
"Child marriage starts a cycle of disadvantage that denies girls the most basic rights to learn, develop and be children," said Save the Children International CEO Helle Thorning-Schmidt.
"Girls who marry too early often can't attend school, and are more likely to face domestic violence, abuse and rape... They also bear children before their bodies are fully prepared, which can have devastating consequences on their and their baby's health."
The report cites some of the heartbreaking accounts of child brides.
Tamrea, 17, from Ethiopia, was quoted by the report saying, "I was given to a husband at 12. I wasn't happy to get married at that age, but my father said there was nobody to look after me since my mum wasn't around. I wasn't happy. I was crying. I wasn't able to get used to what marriage was."
"When I became pregnant my husband left me. When I had my baby I didn't go to a health centre, I gave birth at home. I went to health centre when I was pregnant, but I wasn't able to go back. Labour took me six days.
"If a girl goes to school she can have a better life. My friends go to school and I feel really bad."
Though Tamrea chose not to use her real name, her story could not be any more real and heartbreaking.
Girls caught in the middle of conflicts are more likely to become child brides, with many refugee families marrying off their daughters as a safety or coping mechanism.
The report, called 'Every Last Girl,' ranked 144 countries from the best to the worst in which to be a girl. The listing was based on child marriage, schooling, teen pregnancy, maternal deaths and the number of female lawmakers.
The worst countries in which to be a girl are Somalia, Mali, Central African Republic, Chad and Niger while countries at the top include Sweden, Finland, Norway, Netherlands and Belgium. India ranks 90th on the list with Pakistan ahead of us at 88, Sri Lanka at 60. Bangladesh ranked below us at 111.
More than 700 million women worldwide today were married before they reached 18 and a third were married before age 15, the report said. UNICEF estimates this figure will grow to 950 million by 2030.