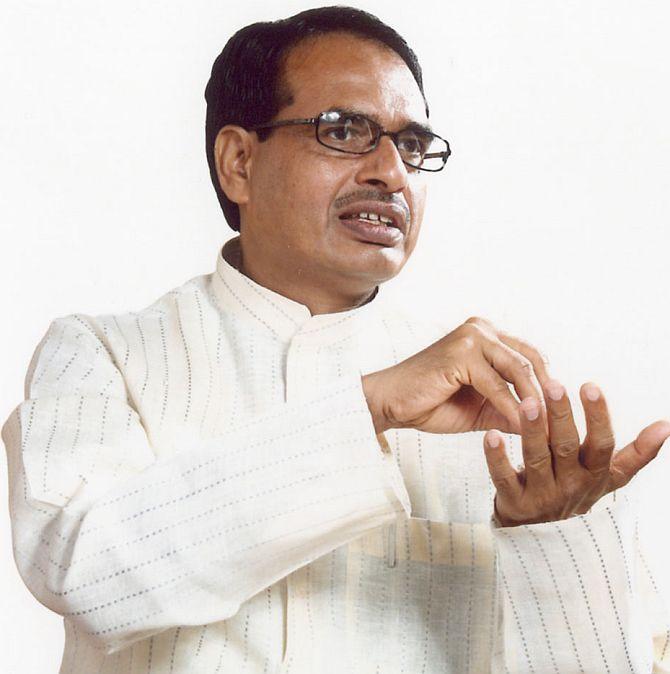 A clever politician and a popular leader, Shivraj Singh Chouhan now finds the Vyapam scam threatening his political future. Is he paying the price of being in the wrong camp? Aditi Phadnis and Shashikant Trivedi find out.
Has anyone noticed how those in the Bharatiya Janata Party who might have posed a challenge to Narendra Modi are suddenly falling from their perches? Sushma Swaraj and Vasundhara Raje have both been engulfed by Lalit Modi and the politics of cricket. The latest victim is Madhya Pradesh Chief Minister Shivraj Singh Chouhan who is squarely in the eye of the Vyapam scam.
At this point, only rumours indicate to Chouhan's -- or his family -- complicity in what appears to be the biggest recruitment scam in India, second only after the teacher recruitment scandal in Haryana for which the Chautala family is currently serving a jail sentence.
The courts will decide if Chouhan was party to sending imposters to write examinations for state government recruitment and admission to medical colleges. But what is more damaging is the impression that it happened under his watch and he did nothing to rapidly investigate the damage and punish the culprits.
Vyapam scam: Why no action against mantrani and minister's wife, asks Congress AAP demands resignation of MP Governor, CM over Vyapam scam Amid chaos, Vyapam to add 9,000 police posts in MP Vyapam's working to be digitised, says MP govt Rahul Gandhi attacks PM Modi on Vyapam, Lalitgate
Worse, the perception has gained ground that he was the main impediment in entrusting the matter to the Central Bureau of Investigation and that the state government's investigation, monitored by the high court, was getting nowhere. This obviously leads to the next question: what was he trying to hide?
The centre has not challenged reports that it was at its intervention that the matter was finally referred to CBI.
Local media suggests that one of Chouhan's greatest detractors, Kailash Vijayavargiya, who was brought to Delhi from Bhopal and made general secretary, was instrumental in whispering in party president Amit Shah's ear that the state government's handling of the Vyapam scam left much to be desired, and that it would be best if Chouhan was directed to refer the matter to CBI.
On slippery ground
Can Chouhan recover ground? He is into his third term as the chief minister of Madhya Pradesh and is widely credited to have brought about an agricultural transformation in the state. He is known to have a way to connect with the masses.
If you thought the Aam Aadmi Party was a pioneer for the way it roped in auto-rickshaw drivers and created an army of volunteers, you're wrong. Chouhan had done it much earlier in Madhya Pradesh: in his case it was around 10,000 drivers of all sorts -- taxi, auto-rickshaw and state transport buses -- and conductors as well.
They all got together for a panchayat, not unlike Nitish Kumar's janata darbars. Chouhan announced the Rs 1-lakh Sarathishri Award for the best driver and conductor. Registered drivers and conductors are now eligible for wheat and rice at Rs 1 a kg. A driver-conductor welfare board will provide social security with a corpus of Rs 10 crore and medical assistance.
At the panchayat, somewhat unnecessarily, Chouhan asked drivers and conductors to take a solemn oath not to drink and drive.
"The reputation of the state depends on you," he told them.
Such outreach is not at all unusual for Chouhan who likes to be known as the man of the people.
This is one reason why BJP keeps winning elections in the state, managing even to win the Garoth assembly by-elections last month, albeit by a lower margin of victory.
"He is a leader who has achieved everything on his own by directly communicating with the masses. He has a solid voter base. As a result, the Vyapam scam has so far made no dent on his political career. Or else he might have lost the elections.More importantly, had he been involved in it he would have restricted police investigations to the initial complaints, not asked it to probe the entire examination process," says Girija Shankar, a political observer.
Paying a heavy price
That may be fine, but Chouhan could be paying the price for being in the wrong camp within BJP. During the campaign and prior to nomination of candidates for the Madhya Pradesh assembly elections in 2013, Chouhan was counted among the top loyalists of Lal Krishna Advani and Swaraj. The three leaders were seen by those outside BJP as the triumvirate that would act as a check on Modi.
Chatter was loudest before the 2014 general elections and when Modi went to Madhya Pradesh as part of the election campaign, much was made of the body language between him and Chouhan.
This was exacerbated by Chouhan's determined effort to keep the minorities in the state happy. During his almost 10-year tenure as chief minister, Chouhan has gone out of his way to make the administration and its policies inclusive.
Instantly, comparisons began to be made between the ghettoisation of the minorities in Gujarat and their embrace by Madhya Pradesh.
Indeed, Chouhan would be right there to felicitate Muslims outside mosques on Eid, would host Christmas parties for Christians at his official residence and would ensure all his policies were minority-sensitive.
Thus, in the scheme where the state paid for pilgrimages undertaken by senior citizens, he included Ajmer on the list of pilgrimages as well as Velankani.
Modi stopped a group of Muslims from placing a skull-cap on his head. Chouhan wore one proudly and embraced the Muslims who brought it.
In the initial months of the National Democratic Alliance, there were murmurs that Modi would soon clip his wings. Meanwhile, the Vyapam scam kept on simmering, with occasional protests and demonstrations from the local unit of the Congress, the main opposition, in various assembly sessions.
No contingency plan
Chouhan had no contingency plan to defend himself. This was par for the course. A cleverer politician who was in full control of the government would have nipped the controversy in the bud. Chouhan allowed it to fester: the death of at least one of the victims, Namita Damor, was never properly investigated, even though one of his ministers was in jail by then.
It was inefficiency and lack of vigil at its worst. "He could do nothing to crack down on the alleged nexus among students, politicians, bureaucrats and middlemen who continued rigging the examination process between 2009 and 2013 to steer results in their favour in lieu of hefty bribe," says Paras Saklecha, a former MLA who counters his claim.
Saklecha has come up with a book, Vyapam Mahaghotala, in which he has given a detailed account of the scam.
Chouhan's other political rival, Digvijaya Singh, insists that the Special Task Force formed to investigate the scandal is doing so on the basis of a fabricated Excel sheet. The original sheet, according to him, was verified by a Bengaluru-based private forensic laboratory, Truth Lab.
That sheet is the crux of the entire scam. It reportedly reveals names of 138 candidates who appeared in contractual teachers' examination. Of them, 48 names had word CM in the sheet that, according to Singh, referred to Chouhan.
In the forged sheet, seven names have Uma Bharti beside them, one has Rajbhawan and 21 others have the word minister. Singh has alleged that Chouhan was reluctant to have a CBI probe since he and his family were mired in the scam.
Today, there is no doubt that Chouhan's fortunes are at their lowest ebb. He is being perceived as a chief minister who is there on sufferance, with Delhi holding the lifeline that it can yank off any time.
But what people underestimate is his native cunning. Uma Bharati thinks she was the best chief minister Madhya Pradesh has ever had. But in all these years, not only has she not been able to return to Madhya Pradesh but also her proteges have not been allowed to grow. The central leadership of the party is being forced to acknowledge that there is no bigger leader than Chouhan in Madhya Pradesh.
But how he rides out this crisis remains to be seen. His ability to make friends was never needed as badly as it is today.