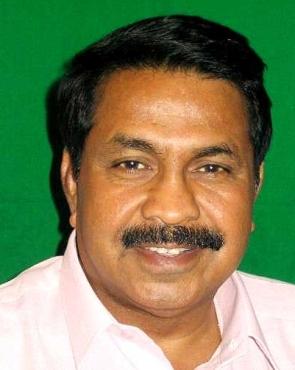 Mohan Rawale, a five-time former MP from Mumbai south central, was expelled from the Shiv Sena on Monday, days after his meeting with Maharashtra Navnirman Sena chief Raj Thackeray, in an apparent clamp down on dissidence.
The development follows Shiv Sena President Uddhav Thackeray's stern warning to dissidents last Friday when he said those who were uncomfortable with his leadership were free to leave the party which had prompted an apology from senior leader and former Lok Sabha Speaker Manohar Joshi. "Mohan Rawale has been expelled from Shiv Sena," party spokesperson and MP Sanjay Raut told PTI.

Read: Why Shiv Sena is in turmoil
Rawale was in the middle of media briefing when the news of expulsion came. Rawale, who was reportedly upset with party leadership over reports that it was planning to field former MLC Arvind Sawant from his old constituency, had met Raj Thackeray on November 22, creating a flutter in the party.
Though he had later clarified it was a "purely personal meeting" and a "courtesy call", his explanation apparently failed to satisfy the Sena leadership.
Rawale hit out at the party following his expulsion, saying, "The Shiv Sena is on the way to becoming a party of dalals (brokers)."
He particularly targeted Uddhav's personal assistant Milind Narvekar for the current state of party affairs and his expulsion.
"I am not surprised by this action, which has come because I spoke out against Narvekar. Narvekar is responsible for the present plight of the Sena. They don't have the guts to remove Narvekar," Rawale told reporters.
"When Balasaheb (the late Sena patriarch Bal Thackeray) was there, I would to be called to Matoshree (the Thackeray residence) if there were issues concerning me and I would clarify," he said, adding "but things have changed so much that even as an MP, I had to wait four years to meet Uddhav."
A defiant Rawale said he would not apologise for his actions, in an apparent reference to Manohar Joshi, who had raised the hackles of the party leadership by his criticism of Uddhav. "I won't tender an apology to anyone. It is Narvekar who is managing Sena affairs," he said.
Rawale, according to sources close to him, is considering joining the MNS. Those who don't like my leadership, they are free to join other parties. The doors are open. I will not ask them to stay," Uddhav had told reporters on Friday after a meeting with party leaders which was also attended by Joshi and Rawale.
Shortly afterwards, Joshi had issued a statement publicly apologising for "unwittingly disrespecting" the party president.
"I met the party president today and made it clear ...Uddhav Thackeray's leadership is strong. If my statements have unwittingly disrespected the party president, I publicly apologise for the same as party's discipline requires it, and hope that the issue would now close finally," Joshi said.
Joshi, also a former Maharashtra chief minister, had in September said that unlike his father Bal Thackeray, Uddhav was "milder", and had it been about the memorial of the senior Thackeray's father, the late Sena supremo would have "brought down the government" over the delay. His remarks had not gone down well with Uddhav.
Image: Speculation is rife that Mohan Rawale may join the MNS