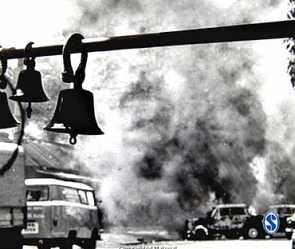 The Bombay high court has granted interim bail to Shiv Sena leader Jaywant Parab till June 20, when the court will hear his application challenging a two-month imprisonment awarded to him for delivering hate speeches during the December 1992 communal riots in the city. Another Sena member Ashok Shinde was also granted bail by the court.
Justice S C Dharmadhikari said he would hear Parab and Shinde's revision applications on June 20. "The applicants (Parab and Shinde) are enlarged on bail till June 20, 2013," the court recently said.
A sessions court had on May 5 this year reduced the prison term handed down to Parab to two months from the one year sentence awarded by the magistrate court in July 2008.
According to the prosecution, during the 1992 communal riots, there were rumours of a Ganesh idol being desecrated in a temple in Bandra. On December 27, 1992, Shiv Sena leader Madhukar Sarpotdar had led a 5,000-strong mob through Nirmal Nagar and Kherwadi in suburban Bandra to the Ganesh temple.
There, Sarpotdar, Parab and other Sena leaders delivered provocative speeches at the temple during the reinstallation of the Ganesha idol leading to the mob turning violent.
On July 9, 2008, a special magistrate, appointed to try cases related to the December 1992 and January 1993 riots in the city, had convicted Parab along with Sarpotdar and Shinde for delivering inflammatory speeches, which added fuel to the already tense atmosphere.
The magistrate had awarded all of them simple imprisonment of a year and a fine of Rs 5,000 each. However, immediately after sentencing them, the magistrate granted them temporary bail in order to file appeals challenging their convictions and the prison term.
Sarpotdar expired on February 20, 2010, while the appeals were pending.
The accused were found guilty under various sections of Indian Penal Code for promoting enmity between different groups on grounds of religion and caste and being part of an unlawful assembly.

Image: The 1992 riots in Mumbai | Courtesy: Riots and After in Mumbai/Meena Menon