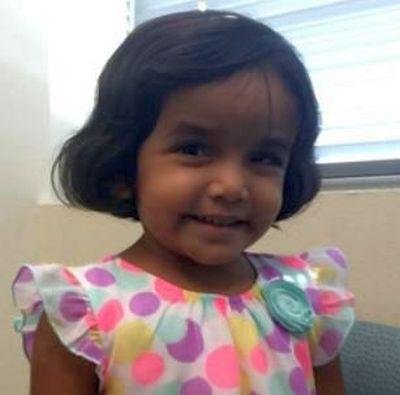 Sherin Mathews, a 3-year-old Indian girl who was found dead in a culvert after being reported missing by her foster father, has been buried in an undisclosed location, her mother's attorneys said on Wednesday, citing intense media glare and threats of grave desecration.
Sherin, reported missing on October 7, was found dead in a culvert about 1 km from her home in suburban Dallas on October 22. Her body was released by the Dallas medical examiner last week for funeral but her autopsy report is still awaited.
She was adopted by the Indian-American couple, Wesley Mathews and Sini Mathews, from an orphanage in India last year.
Her funeral was held "according to the religious beliefs and the cultural heritage of her family", attorneys Mitchell Nolte and Gregg Gibbs said in a statement.
The burial location was kept a secret, the attorneys said, who confirmed to WFAA TV that Sini attended the ceremony along with close family and friends.
In a statement said the funeral took place at an undisclosed location "because of personal security concerns and threats of grave desecration."
Despite a community petition seeking permission to perform a public interfaith burial for Sherin, the ceremony was private, they said.
"Because of the intense press and social media attention in this case, the family chose to keep the ceremony private so the focus could be on Sherin's future in heaven and not on her tragic death on Earth," the attorneys said.
They said that the family "cannot express their gratitude to everyone personally," but appreciates the outpouring of prayers and love during this time.
Sherin's 37-year-old father, Wesley, told police that he put her outside at 3 am to discipline her for not drinking her milk.
He changed the story after her body was found in the culvert and told police that he "assisted" with pouring the milk down Sherin's throat and then moved her body after he realised she had choked and died.
Wesley was arrested and charged with felony injury to a child, which carries a sentence of up to life in prison. He is still in the Dallas County jail on a USD 1 million bond. He has also been placed under suicide watch.
Sini, a nurse, says she was sleeping during the incident and had nothing to do with Sherin's death.
Sini said in a statement last week she had nothing to do with the death of her adopted special needs daughter and she has been cooperative with police. She has not been charged.
The Mathews' biological 4-year-old daughter was taken away by the Child Protective Services after Sherin disappeared. A Dallas County judge last week postponed the custody hearing until November 13 to allow Wesley to hire a civil attorney.