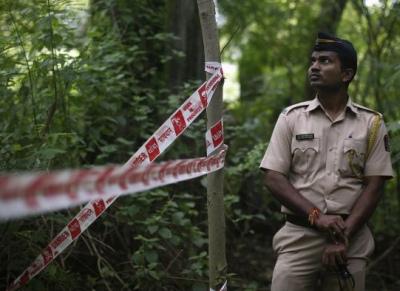 With questions being raised on the alleged botch-up of the Sheena Bora murder case by Raigad police in 2012, the Maharashtra government has asked state DGP to submit a fresh report on it within 15 days and sought to know why no FIR was filed after the victim's body was found.
In a related development, CBI on Saturday continued to grill former media magnate Peter Mukerjea, who was arrested on Thursday and charged with murder, criminal conspiracy, destroying evidence and lying to protect his wife Indrani, at the agency's office in south Mumbai where he is being kept, sources said.
Peter, husband of Indrani, was remanded to CBI custody till November 23 by a magistrate court on Friday.
Peter's son Rahul, who was in a relationship with Sheena, said the charges against his father were "outrageous".
Sheena Bora was allegedly murdered by her mother Indrani Mukerjea, her former husband Sanjeev Khanna and former driver Shyamvar Rai in Mumbai in April 2012. The body of the 24-year-old was dumped at a forest in Raigad district.
Dissatisfied with one-page report submitted by former DGP Sanjeev Dayal on the action taken against the Raidgad police in 2012, the state government Directed Director General of Police Pravin Dixit to submit a fresh report.
The state government has ordered a probe as to why the police had not filed an FIR or an ADR (Accidental Death Report) when Sheena's body was first found at a forest in Pen taluka of Maharashtra's Raigad district on May 23, 2012.
"The last DG (Dayal) submitted a one-page report to us, but I was not satisfied with it. I said supporting documents will be needed to take action against a senior police officer," Additional Chief Secretary (Home) K P Bakshi told PTI.
"The incumbent DGP (Dixit) has been given the responsibility of submitting a fresh report with corresponding documents now. We are expecting a report within the next 15 days," Bakshi said.
Refuting media reports on the alleged involvement of a senior police officer in delaying the Sheena murder probe, Bakshi had earlier said the government had received no official communication from the CBI on the issue.
"The state government, within two days of transferring the probe to the investigating agency, ensured that it gets all the logistical support it needs," he said.
"The government's assistance to CBI on the directions of Chief Minister Devendra Fadnavis and their swiftness in taking the case forward led to the premier investigation agency filing the charge sheet before time," he said.
However, Bakshi refused to comment when asked if Peter would have escaped the clutches of law had the case not been transferred to the CBI.
Rahul said, "Charges against him (Peter) are absolutely outrageous," as he emerged from the CBI office in South Mumbai, where he spent last night after requesting the sleuths to let him do so.
Rahul had on Friday said that Peter's arrest had come as a "shock" for him.
"I don't believe he knew (anything about the murder.. otherwise I wouldn't be here," he told reporters outside a court.
The probe agency had also told the magistrate court that Peter was in continuous conversation with Indrani prior to, during and after the gruesome murder.
Suggesting a financial angle to her murder in April 2012, the charge sheet said fear of Sheena inheriting the entire property of Indrani and her husband in the event of the victim's marriage to Rahul was the prime motive for Indrani to do away with her daughter.
Indrani, who was said to have a soft corner for Vidhie, her daughter by former husband and co-accused Sanjeev Khanna, feared that the entire property might go to Sheena and Rahul if they were married, the charge sheet said.
In this context, the charge sheet added, "she planned a conspiracy with Khanna and her driver Shyam Rai to kill Sheena Bora".
The probe agency told the court that Rahul had recorded his conversation with Peter in which his father told him that he has spoken to Sheena and she was in the US at a time when she was already dead.