If words could reveal sentiments, it could not have been expressed any better than by Mother Teresa.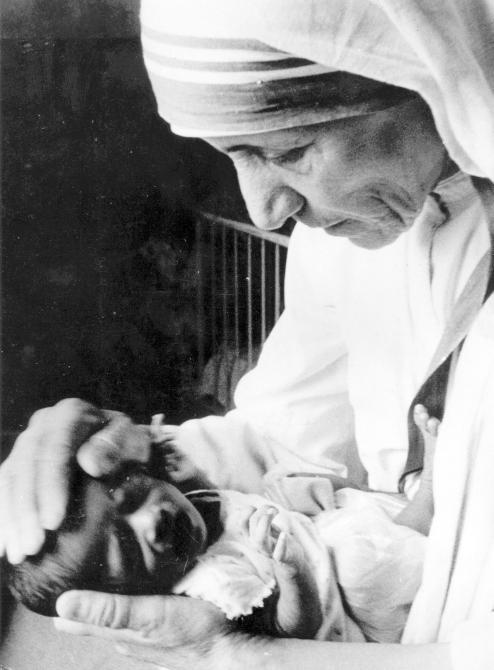 Mother Teresa is seen with a child in this photograph taken on July 1, 1971. Photograph: Mark Edwards/Getty Images
I had the most extraordinary experience with a Hindu family who had eight children. A gentleman came to our house and said: Mother Teresa, there is a family with eight children, they had not eaten for so long -- do something. So I took some rice and I went there immediately. And I saw the children -- their eyes shinning with hunger -- I don't know if you have ever seen hunger.
But I have seen it very often. And she took the rice, she divided the rice, and she went out. When she came back I asked her -- where did you go, what did you do? And she gave me a very simple answer: They are hungry also. What struck me most was that she knew -- and who are they, a Muslim family -- and she knew.
Some time ago in Calcutta we had great difficulty in getting sugar, and I don't know how the word got around to the children, and a little boy of four years old, Hindu boy, went home and told his parents: I will not eat sugar for three days, I will give my sugar to Mother Teresa for her children. After three days his father and mother brought him to our home.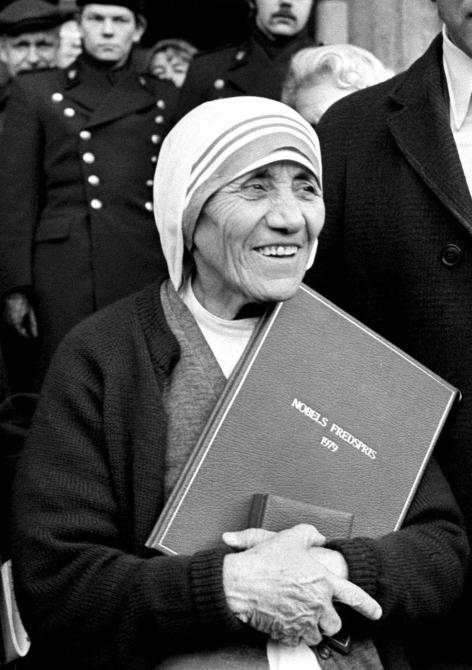 Mother Teresa is seen smiling in this 1979 file photo after receiving the Nobel Peace Prize. Photograph: Reuters
I had never met them before, and this little one could scarcely pronounce my name, but he knew exactly what he had come to do. He knew that he wanted to share his love… If words could reveal sentiments, it could not have been expressed any better than by Mother Teresa.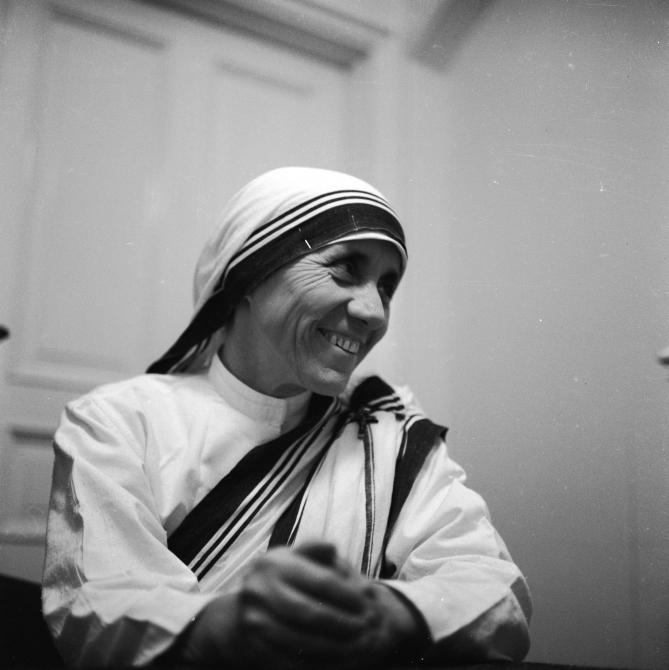 Mother Teresa in this photograph taken on November 1, 1960. Photograph: Keystone Features/Getty Images
Teresa, who died in 1997 in Kolkata, was conferred the Nobel Peace Prize in 1979 and beatified as the 'Blessed Teresa of Calcutta' in 2003, for dedicating her life to the poor, the destitute and the sick of Kolkata.
Rashtriya Swayamsevak Sanngh chief Mohan Bhagwat had on Monday triggered a controversy by saying, "Mother Teresa's service would have been good. But it used to have one objective, to convert the person, who was being served, into a Christian."
We bring you excerpts from Mother Teresa's Nobel Prize acceptance speech:
One evening we went out and we picked up four people from the street. And one of them was in a most terrible condition - and I told the Sisters: You take care of the other three, I take of this one that looked worse. So I did for her all that my love can do.
I put her in bed, and there was such a beautiful smile on her face. She took hold of my hand, as she said one word only: Thank you -- and she died… The poor people are very great people. They can teach us so many beautiful things.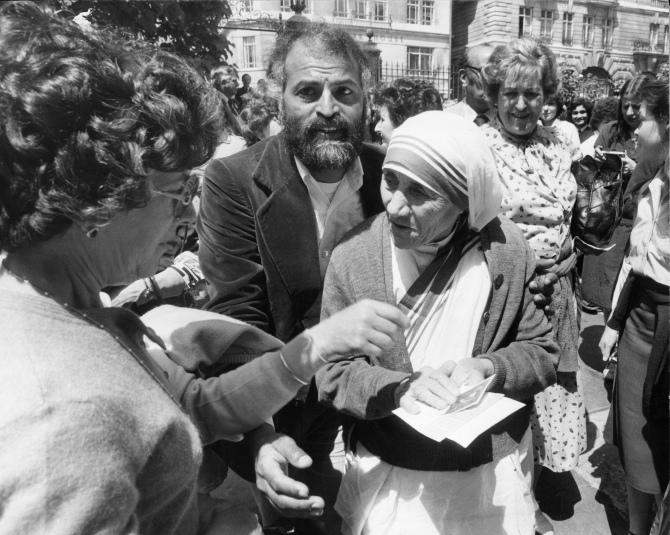 Mother Teresa of Calcutta leaving the Saint James' Church in Piccadilly, London. Photograph: Ian Tyas/Keystone/Getty Images
The other day one of them came to thank and said: You people who have vowed chastity you are the best people to teach us family planning. Because it is nothing more than self-control out of love for each other. And I think they said a beautiful sentence.
And these are people who maybe have nothing to eat, maybe they have not a home where to live, but they are great people. The poor are very wonderful people. From the time that I have come here I have simply been surrounded with love, and with real, real understanding love. It could feel as if everyone in India, everyone in Africa is somebody very special to you. And I felt quite at home I was telling Sister today.
I feel in the Convent with the Sisters as if I am in Calcutta with my own Sisters. So completely at home here, right here.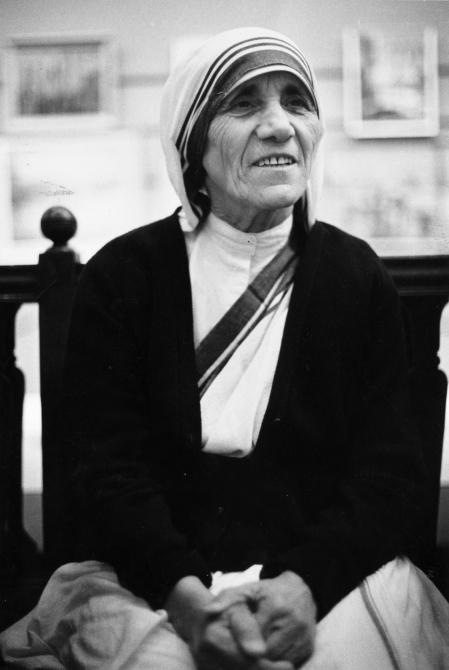 Mother Teresa in London. Photograph: Joe Bangay/Express/Getty Images
The other day I received $15 from a man who has been on his back for twenty years, and the only part that he can move is his right hand. And the only companion that he enjoys is smoking. And he said to me: I do not smoke for one week, and I send you this money.
It must have been a terrible sacrifice for him, but see how beautiful, how he shared, and with that money I bought bread and I gave to those who are hungry with a joy on both sides, he was giving and the poor were receiving.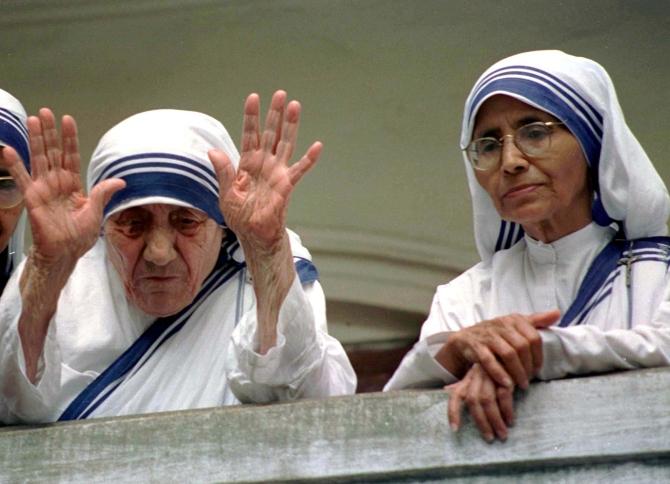 Mother Teresa waves to the crowd alongside with her successor Sister Nirmala. Photograph: Reuters
There was an outpouring of protests following Bhagwat's comment. "It is completely wrong that they have been propagating conversion. She never hoped that those who are serving will convert to Christianity. She had selfless love for people in her heart and that is why she served them," said Sister S M Cyril, a Padma Shri awardee who knew Mother Teresa closely.
Delhi Chief Minister Arvind Kejriwal also tweeted, "I worked wid Mother Teresa for a few months at Nirmal Hriday ashram in Kolkata. She was a noble soul. Pl spare her."
The Vatican, however, declined to comment on Bhagwat's remarks, but said the missionary was a beacon of hope for the world's poor and downtrodden.