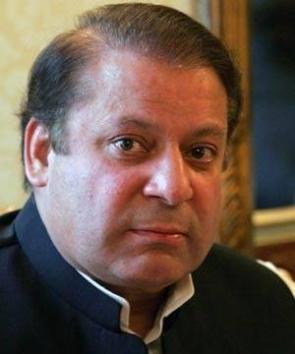 Pakistan Prime Minister Nawaz Sharif on Tuesday underwent an open-heart surgery at a British hospital which his party said was 'successful', the Premier's second cardiac procedure in five years.
Sharif had gone to London on May 22 for a regular medical checkup but was diagnosed with a heart complication by doctors who suggested surgery.
The 66-year-old Pakistan Muslim League (Nawaz) leader was recovering after the operation at Princess Grace Hospital in London and was expected to be conscious in a few hours.
"The operation was successful and we are now just waiting for him to recover and wake up in a couple of hours," a PML-N UK spokesperson said.
Sharif's daughter Maryam Nawaz had earlier given updates on the surgery on social media.
'By the Grace of Almighty, surgery progressing fine. Will take another couple of hours or so. Prayers doing miracles... Grafting of vessels started an hour ago (sic),' she said on Twitter.
'PM's surgery started at 8 am UK time. Spoke to him earlier, he was in high spirits. I entrusted him to Allah,' Maryam said in an earlier tweet.
The need for the surgery arose after the Premier went through a cardiac procedure called Atrial Fibrillation Ablation in 2011, 'during which certain complications occurred resulting in perforation of heart,' Maryam had told the media.
"After some recent symptoms, a team of cardiologists and cardiac surgeons carried out some scans and tests, following which they decided to go for an open-heart surgery," she said.
Sharif will stay in the hospital for at least a week. He will return after being allowed by the doctors.
Meanwhile, Russian President Vladimir Putin and Afghan President Ashraf Ghani were among several world leaders who wished Sharif ahead of the surgery.
However, Sharif only spoke to Prime Minister Narendra Modi before the surgery, the Pakistan Foreign Office said in Islamabad.
"PM Nawaz Sharif telephoned PM Modi and expressed gratitude for Mr Modi's best wishes for his upcoming operation and speedy recovery," Foreign Office spokesperson Nafees Zakaria said.