It has been seven years since 10 Pakistanis came by boat from Pakistan and terrorised Mumbai. Today, the Indian Navy has stepped up its game with new surveillance and modernised equipment and ships that enables it to combat any challenge. Rediff.com's Vipin Vijayan reports from Kannur, Kerala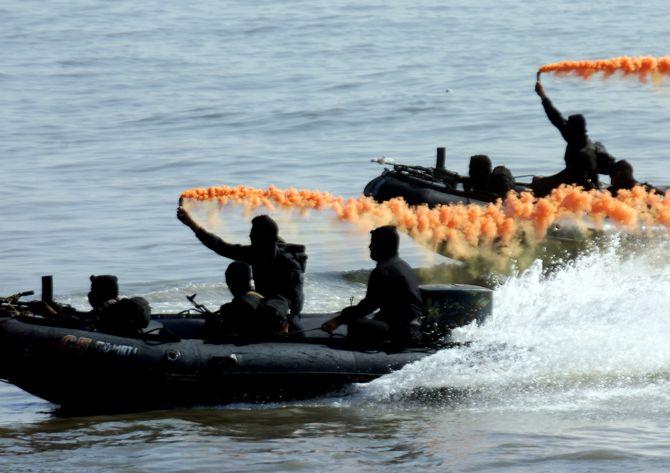 The Indian Navy has taken a large number of measures to ensure that coastal security has improved since the 26/11 attacks in Mumbai. Photograph: Reuters
On the seventh anniversary of the Mumbai 26/11 terror attacks in which 10 Pakistani terrorists arrived by sea and killed166 people, Indian Naval chief Admiral R K Dhowan asserted that the Indian Navy has emerged as a multi-dimensional network force, ready to combat any challenge.
"The navy has been designated as the lead agency for coastal and offshore maritime security. A large number of measures have been taken. Today, we have 87 Automatic Identification System stations along also our coasts, 46 coastal radar stations, 36 in the mainland and 12 in the islands.
We have also set up the National Command Control Communication Intelligence network with the Information Management and Analysis Centre at Gurgaon where 51 nodes of the navy and coast guard are integrated, all to provide comprehensive maritime domain awareness in the waters around us," the admiral said.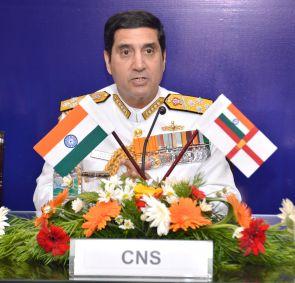 Indian Navy chief Admiral RK Dhowan. Photograph: Vipin Vijayan
He was talking to reporters after reviewing the passing-out parade of 330 cadets of the Indian Navy and the Indian Coast Guard and six cadets from friendly foreign countries at the Indian Naval Academy, Ezhimala in Kerala.
Following the terror attacks, the coast guard and the naval forces had received flak for failing to track the 10 Lashkar-e-Tayiba terrorists who snuck into India by water.
The terrorists had sailed in a Pakistani ship, Al-Husseini, before taking over a fishing trawler, M V Kuber to reach Mumbai.
Dhowan stated that the navy has also been working on creating awareness among fishermen about coastal security. We have 4 million active fishermen who are out at sea, 14 million people who form the fishing community, we have about 2,50,000 fishing boats. So, one of the aspects that the navy and the coast guard have taken on is to see that the entire fishing community is part of our eyes and ears.
"We have mapped every single coastal village on the west and east coast, spoken to fishermen in their language, made them understand the importance of coastal security, and how each one of them is an important member as the eyes and ears of the coastal guards. This has had a great impact," he added.
The naval chief further added that process of registering fishing boats was on in all nine coastal states and that they have already started to issue biometric cards to fishermen. "The aim is to have all these people as part of the security grid. That's how we hope to have seas around us safe and secure," Dhowan said.
When asked how real the terror threat was today, the naval chief said, "As a maritime force, the navy is geared up for any kind of challenge. As far as coastal security is concerned, we regularly conduct coastal security exercises in all nine states in coordination with related agencies whether it is the state police or the coast guard so that we are ready to meet any threat."