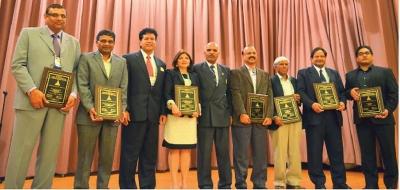 The Society of Asian American Scientists in Cancer Research last month presented awards to seven doctors for their outstanding contributions to cancer research. The awards were presented by Rajvir Dahiya, SAASCR president, San Diego, California on April 6.
Dahiya, a professor and director of the Urology Research Center at the University of California San Francisco School of Medicine and the San Francisco Veterans Affairs MedicalCenter since 1987, founded the SAASCR along with Dharam Paul Chauhan in 2004.
The non-profit SAASCR has more than 5,000 scientists from Asia, mainly of Indian origin, and working in the United States and Canada in cancer research. The scientists who were honored presented their original research work at the meeting of the American Association for Cancer Research in San Diego, April 5-9.
Sanjay Gupta is the Carter Kissell Endowed Chair in urologic oncology, and research director, department of urology, Case Western Reserve University, and The Urology Institute, University Hospitals Case Medical Center.
His research involves basic, translational and clinical areas of focus. In basic research his focus is to understand the risk factors and mechanisms of prostatic and bladder diseases and develop appropriate biomarkers for early detection and prognosis. Translational research focus is to identify novel targets to monitor the efficacy of synthetic and natural agents and develop them as chemo preventatives/therapeutics.
His clinical research interests are translation of bench research to its application in clinics.
Addanki Pratap Kumar is professor, department of urology with cross appointment in the departments of pharmacology and molecular medicine, School of Medicine, University of Texas Health Science Center at San Antonio. He is also co-leader of the cancer prevention program of the NCI designated Cancer Therapy and Research Center, and a research health scientist at South Texas Veterans Health Care System, San Antonio, Texas.
A seminal discovery from his laboratory regarding the ability of a bark extract to prevent prostate tumor development in pre-clinical animal model led to clinical trial to test the ability of the extract to potentiate radiation and surgery regimens for prostate cancer patients.
Recent research findings published in Clinical Cancer Research showed the ability of this extract for pancreatic cancer management.
Pinku Mukherjee is an Irwin Belk and Oliver Smithies Endowed Professor for Cancer Research, University of North Carolina at Charlotte. She has held faculty appointments at IndianaUniversity Medical Center and Mayo Clinic Arizona. In over 23 years of cancer research, her lab has been the recipient of federal and non-federal research awards. She has a patent issued and 12 others pending for the development of a new antibody that has applications in molecular diagnostics and anti-cancer therapeutics.
Nihal Ahmad is a Nelson M Hagan Endowed Professor, University of Wisconsin, Madison. He is also a research career scientist at the VA Medical Center in Madison. His research is focused on the mechanism of cancer development and identification of molecular targets for intervention, and chemoprevention and experimental therapeutics of cancer. His research is funded by the National Institutes of Health and the VA Merit Review Award.
Eri S Srivatsan is professor of surgery, David Geffen School of Medicine, University of California Los Angeles. He is working on therapeutic agents for the treatment of cervical and another HPV associated cancer. With the help of UCLA students, he started a non-profit, Project RISHI, at UCLA in 2005. The organisation now has chapters in all the UC campuses and in Northwestern and Harvard universities.
Each of these chapters has adopted a village in India for improving the health care. The UCLA chapter has provided health-care and sanitation facilities in the adopted villages, Vadamanappakkam, located 100 miles south of Chennai. Villagers have also received cataract surgeries, eye glasses, hearing aids and handicap-bicycles through hospital partnerships in Chennai.
Rajeev Kumar Agarwal is a program director, Translational Research Program, Division of Cancer Treatment and Diagnosis, National Cancer Institute, NIH. He monitors translational research grants known as 'Specialised Programs of Research Excellence' in gastrointestinal, pancreatic and skin cancers.
Panna Sharma is chief executive officer, Cancer Genetics Inc. Under his tenure, the CGI has launched five proprietary DNA-based cancer diagnostics and establishing partnerships and collaborations with leading cancer institutions including Mayo Clinic, Memorial Sloan-Kettering Cancer Center, and National Cancer Institute.
Anil Kumar Jaiswal is a professor of pharmacology and experimental therapeutics, University of Maryland School of Medicine, where he is also director of the Graduate Program in Molecular and Mechanistic Toxicology.
He has made several discoveries that have significantly increased understanding of cellular responses to environmental and synthetic chemicals and radiations, oxidative stress signaling, cell survival, cell death and molecular carcinogenesis.