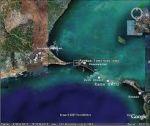 With the Centre ignoring the Pachauri Committee report advising against implementation of the controversial Sethusamundram project, eminent scientist R K Pachauri has said that he stands by the report and warned of serious ecological ramifications.
"We stand by what we said in our report that the project will not be economically and ecologically viable," Pachauri, chairperson of the Intergovernmental Panel on Climate Change, said.
Talking to reporters on the sidelines of IIM Calcutta convocation, he said the committee headed by him came to the aforesaid conclusion after a comprehensive reading of all factors like ocean current and wind patterns.
"Our conclusion is very robust. Now it is for the government to decide what it wants to do," said Pachauri, also the director-general of The Energy and Resources Institute.
Centre, in an affidavit filed before the Supreme Court, had said it intended to go ahead with the Rs 25,000 crore Sethusamudram shipping channel project on the ground that it has economic, navigational and strategic advantages and moreover an expenditure of Rs 829.32 crore has already been incurred on it as on June 30, 2012.
The project is aimed at constructing a shorter navigational route around India's southern tip by breaching the Ram Sethu, said to have been built by Lord Rama's army of monkeys and bears to Ravana's kingdom Lanka.
The prime minister had appointed the RK Pachauri Committee after the apex court had asked the government to explore an alternative alignment for the shipping channel to prevent any damage to the mythological bridge.