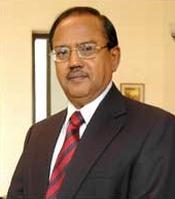 Ajit Doval, former director of the Intelligence Bureau and the likely NSA, has an enviable record for courage under fire, reports Vicky Nanjappa/Rediff.com
Ajit Doval, former director of the Intelligence Bureau, is all set to be be the National Security Advisor in the Narendra Modi government.
Doval assisted Prime Minister Modi in his meetings with SAARC leaders, including Pakistan Prime Minister Nawaz Sharif, on Tuesday, May 27.
He currently heads the Vivekananda International Foundation, a think-thank, in New Delhi.
His friends and colleagues say the Kerala cadre former Indian Police Service officer knows and understands the job better than anyone else. Doval has been awarded the Kirti Chakra for courage away from the field of battle.
Speaking to Rediff.com earlier, Doval had said that the NSA's post is a very crucial one and should be held by someone who has ample experience in intelligence-related issues. He felt the one mistake past governments have made was appointing retired diplomats to the NSA's job.
Doval has worked in Kashmir and the north-east and is credited with the success of Operation Black Thunder in Punjab in 1988. He has also spent six years undercover in Pakistan.
In December 1999, Doval and diplomat Vivek Katju traveled to Kandahar to negotiate the release of the passengers and crew aboard the hijacked Indian Airlines Airbus flight IC-814.
His appointment will please officers in intelligence and security agencies who have great respect for Doval's skills.
Over the years, he feels regional political parties have become a major hindrance in national security and believes these parties need to have a national perspective. Modi remained firm on the invitation to Sri Lankan President Mahinda Rajapaksa for the swearing-in ceremony despite the opposition from political parties in Tamil Nadu.