Several officers in the intelligence fraternity want the role of the National Investigation Agency clearly defined to avoid lack of cooperation between the Centre and states. Vicky Nanjappa/Rediff.com reports.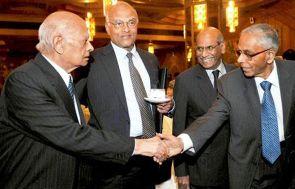 Officers in India's intelligence agencies believe India's next prime minister Narendra Modi will be in a better position to fight terrorism only if he appoints the right National Security Advisor. They feel the NSA should come from within the intelligence fraternity.
The officers Rediff.com spoke to say that more often than not, NSAs with expertise in foreign affairs are selected which has caused a communication gap in tackling terror-related issues.
The intelligence agencies also want the new government to reconsider the role of the National Investigation Agency. The NIA has a dismal track record due to the lack of cooperation between the governments at the Centre and in the states.
An NIA officer felt the agency's role must be well-defined and political compulsions should not hinder investigations.
The intelligence agencies want an NSA with investigation experience and a law to over-ride state government power in probes related to terrorism.;
The cyber wing of the intelligence agencies want better funding to operate efficiently. Ethical hacking, which is a full-time salaried government job in several countries including Pakistan, is still frowned upon in India. The agencies want this to change to protect the nation against cyber attacks.
"We investigators need the complete backing of the Union government in order to handle such states, Kerala being one such example. The message from the Centre should be extremely clear," an intelligence officer told this correspondent.
"There cannot be appeasement on the lines of caste and religion," the officer added, "when the fight is against terrorism."
Image: From left, the late Brajesh Mishra, National Security Advisor in the Vajpayee government, current NSA Shivshankar Menon, former foreign secretary Shyam Saran who has been mentioned as a possible NSA in the Modi government, M K Narayanan, National Security Advisor in the first United Progressive Alliance government. Photograph: Courtesy: Naveen Jora/Mail Today